Why Legends Of Tomorrow's Supernatural Crossover Will Be Surprisingly Dangerous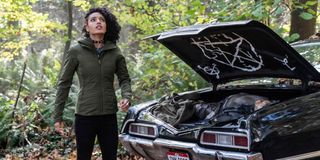 Anything is possible on Legends of Tomorrow. A Mister Rogers homage, deadly unicorns, dangerous fairy godmothers, and giant stuffed animals rampaging the city are all in a day's work for the time-traveling superheroes. Their next adventure will take place on slightly more familiar ground when the team finds itself in a pseudo-crossover with The CW's Supernatural. Legends of Tomorrow's Maisie Richardson-Sellers previewed the fun crossover and talked about why it's set to be surprisingly dangerous.
Legends of Tomorrow's upcoming episode, called "Zari, Not Zari," sees Constantine, Charlie, and Sara venturing to Vancouver, Canada to find the Loom of Fate, a magical device used to control people's destinies. In a fun turn of events, the mission takes them to the set of Supernatural, where the Loom has been hidden. Jared Padalecki and Jensen Ackles don't appear as Sam and Dean, who are simply TV characters within Legends of Tomorrow's world, but their 1967 Chevy Impala named "Baby" does, among other props. Here's what Maisie Richardson-Sellers told TVGuide about what fans can expect from the episode:
Dangerous Supernatural crew members? Damn, this really does sound like a completely different earth. On the other hand, this Legends of Tomorrow episode can be likened to the fourth-wall-breaking episode, "The French Mistake," which had Sam and Dean playing Jared Padalecki and Jensen Ackles playing Sam and Dean on the set of Supernatural.
It's all a bit trippy, but I imagine that Constantine, being a warlock, will be making plenty of know-it-all quips regarding the props, which include the devil's trap in Sam and Dean's Impala. In any case, this semi-crossover is a genius idea, even if it does involve dangerous camera operators and more.
It's been over a month since a new episode of Legends of Tomorrow aired, and the show has been sorely missed. The last time we saw the Legends, they were bidding goodbye to Ray Palmer and Nora Dahrk, who got married and left the Waverider to start a new life together. Offscreen, however, Brandon Routh and wife Courtney Ford have spoken at length regarding their characters' departure not being their choice, with Routh saying that their exits were "not well-handled." Routh, who played Superman in the "Crisis on Infinite Earths" crossover, was one of three remaining original cast members, and "Zari, Not Zari" marks the first time he won't be a regular. Hopefully the danger-filled episode doesn't need any Atom-specific heroics.
New episodes of Legends of Tomorrow air Tuesdays at 9 p.m. ET on The CW. For more on what to watch in the coming weeks, be sure to check out our guide to all the big TV finales airing this spring and summer.
Your Daily Blend of Entertainment News