When Avatar: The Last Airbender Will Be Streaming Again On Netflix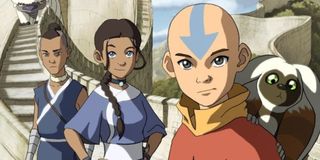 It's been over a decade since Avatar: The Last Airbender ended its original run on Nickelodeon, but the animated series has remained just as popular as ever with fans to this day. Now, at long last, fans can get their fill of the series once more because The Last Airbender is finally returning to Netflix very soon.
Netflix definitely is no stranger to streaming Avatar: The Last Airbender, and the show has been available in other regions for years. Viewers were even able to binge the show on the streaming service in the U.S. before it was removed from Netflix in 2015. Thankfully, that's about to change. The streaming service confirmed that all three seasons of The Last Airbender will once again be available to watch starting on May 15, 2020. So mark your calendars and check out the official announcement below:
This isn't the first collaboration between Netflix and Avatar: The Last Airbender. Back in 2018, it was announced that the streaming service was developing a live-action Last Airbender series. The live-action show was executive produced by the animated series' original creators Michael Dante DiMartino and Bryan Konietzko. Production on the series was supposed to start this year, but I'd imagine it could be pushed back due to the recent Hollywood-wide production shutdowns.
The Last Airbender premiered on Nickelodeon in 2005 and ran for three seasons before being cancelled in 2008. The animated series followed Aang, the titular "Avatar" who was able to draw upon the elements of water, earth, fire, and air to fight. Set in a fictional world, the Avatar's goal was to keep things harmonious between the four nations. However, after being frozen inside an iceberg for a hundred years, Aang woke up to find that the Fire Nation had broken away and begun a tyrannical war against the remaining nations. With the help of new friends Katara and Sokka, Aang's mission was to finally bring peace to the four nations once and for all.
The Last Airbender was followed up by a sequel series called The Legends of Korra in 2012, which also received high critical praise and a loyal fan following. In fact, there are some who believe the Legends of Korra is the superior show.
On the other hand, M. Night Shyamalan's 2010 live-action adaptation, which was to be the first of a planned trilogy, netted brutally negative criticism and is still derided by fans to this day.
Before Avatar: The Last Airbender begins streamin on Netflix on May 15, be sure to check out our guide to all the big TV finales airing over the next few weeks, as well as our 2020 summer premiere schedule. For more on what to watch on Netflix, swing by our streaming guide for all the latest releases.
Your Daily Blend of Entertainment News