What To Watch On Amazon Prime If You Like Action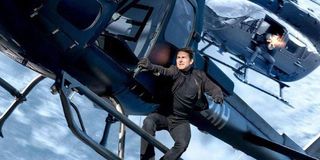 CinemaBlend participates in affiliate programs with various companies. We may earn a commission when you click on or make purchases via links.
Are you in the mood for some action? Are you looking to throw up your feet, put on Amazon Prime, and watch some people throw a few punches and knock a few lights out? You're not alone. Action movies — whether clever, dumb, or a little bit of both— carry a distinct charm, especially when they feature death-defying stunts, rousing suspense, and maybe a few cheesy one-liners. Action movies are some of the most enjoyable films out there, and there might be a few that slipped under your radar. Or you might not know they're now available to stream on the site. If that's the case, then look no further. If you like action blockbusters like Mission: Impossible — Fallout or shows like Jack Ryan, here are a few recommendations. Happy streaming!
Mission: Impossible — Fallout (2018)
In the sixth — and arguably best — installment of the Mission: Impossible film franchise, Ethan Hunt (Tom Cruise) and his team of spies must track down missing plutonium, all while they're being monitored by a CIA agent after a missing goes wrong.
Why It's A Good Option For Action Fans: By the time film franchises get into their sixth feature, you expect the tires to be mostly worn. Especially movie franchises based on pre-established TV series. Nevertheless, Mission: Impossible — Fallout is not only an outstanding sequel but quite possibly the best installment yet. Featuring jaw-dropping stunts, high-tension stakes, well-honed performances, and clever ties to the other films in this long-running series, Fallout is an astonishingly good action film and an extraordinary modern blockbuster — a rarity that you can also appreciate at home.
Stream it on Amazon Prime here.
Jack Ryan (2018 -)
Based on the character created by Tom Clancy, Jack Ryan is a popular new Amazon series that follows the titular CIA analyst as he goes from his desk job into the field after discovering a series of dubious bank transfers, which are being carried out by a rising extremist.
Why It's A Good Option For Action Fans: After a mixed success rate on the big screen, Jack Ryan found enormous triumph on the small one, quickly becoming one of the most popular shows on the streaming service. Starring John Krasinski in his biggest television role outside of The Office, the one-time sitcom actor proved himself to be a commendable action star — to many folks' surprise — and gave himself another career boost after the recent success of A Quiet Place, which he co-wrote and directed in addition to starred in.
Stream it on Amazon Prime here.
Escape From New York (1981)
In a dystopian 1997, New York City is a giant maximum security prison. When the President crashes into Manhattan, Snake Plissken (Kurt Russell), a convicted bank robber, must go in and save him.
Why It's A Good Option For Action Fans: John Carpenter is a master filmmaker who has commanded multiple genres in his distinctive career. In Escape from New York, Carpenter and Kurt Russell made their second collaboration together, which remained very fruitful throughout the '80s. In this atmospheric, grimy action-thriller, the director-actor duo made the sort of thrilling, unusual action movies that truly thrived during this decade. Alas, while these captivating oddities are less common from Hollywood studios nowadays, they're still available to stream, thankfully. If you haven't checked this one out yet, or want to revisit it (good call), make a point to do so.
Stream it on Amazon Prime here.
Chuck (2007-2012)
A lowly computer geek inadvertently downloads government secrets into his brain, resulting in the CIA and NSA assigning agents to protect him, changing his life forever.
Why It's A Good Option For Action Fans: Before Zachary Levi became the title role in Shazam!, he was better known as the titular character in NBC's action-comedy series, Chuck. Also starring Yvonne Strahovski, the spy show was a little series that could, with its future constantly left in question until it ended in 2012 after five seasons and nearly 100 episodes. Though it was always on uncertain terms, Chuck gained a loyal fanbase and following, thanks to its genre blends and its endearing batch of characters. Now, it's available in full to stream on Amazon Prime.
Stream it on Amazon Prime here.
Deathgasm (2015)
Two metal-loving teenagers unwittingly summon an ancient evil entity while mindlessly delving into black magic, and these two unassuming rockers must do whatever they can to save their quaint little city before it's too late.
Why It's A Good Option For Action Fans: Though one could argue it's more of a horror movie than an action flick, Deathgasm is just a lot of fun — no matter what genre you ascribe it to. A gleefully juvenile romp, this goofy, blood-thirsty, unabashedly juvenile feature directorial debut from visual effects artist Jason Lei Howden (Guns Akimbo) is nutty, gory, and chalk full of awesome silliness. If you want a metal-loving good time in the vein of Evil Dead, Dead Alive, and other over-the-top horror-comedies with action, jokes, and all-around weirdness, be sure to check out the rambunctious Deathgasm.
Stream it on Amazon Prime here.
Apocalypto (2006)
When the Mayan civilization faces its decline, a young man goes on a journey into an unknown world.
Why It's A Good Option For Action Fans: Though he's better known as an actor, or for directing Braveheart, The Passion of the Christ, and Hacksaw Ridge (and... other things), one of Mel Gibson's finest accomplishments is helming the under-seen Apocalypto. The epic action-adventure film includes Native Americans and Indigenous Mexican actors, and only the Indigenous Yucatec Maya language is spoken. It represents one of Gibson's boldest, most commanding movies, showcasing a range that might outshine his previous directorial efforts. While it didn't earn the same fanfare, Apocalypto is an incredible achievement, and it made a tidy profit — even if it sadly doesn't get referenced as often. If you loved Gibson's other directorial features, you should make a point to see Apocalypto.
Stream it on Amazon Prime here.
Brawl In Cell Block 99 (2017)
A drug runner must fight for the woman he loves while locked in prison after a deal goes wrong.
Why It's A Good Option For Action Fans: Though Vince Vaughn is best known for his comedies, the actor gives arguably his best performance in Brawl in Cell Block 99, a neo-noir prison thriller from writer/director S. Craig Zahler (Bone Tomahawk) which finds Vaughn using his unexpectedly intimidating demeanor to his advantage in a series of violent, merciless brawls (hence the title). As we follow him through layers of hell to protect his love, this violent, pulpy action flick has an unsuspecting heart amid all the broken limps and smashed faces. The result is a movie that might not be for the squeamish, but if you like your action with a vicious pulse, you'll definitely want to seek this one out.
Stream it on Amazon Prime here.
Goldfinger (1964)
In his third movie, James Bond investigates a gold magnate's smuggling, only to uncover a dastardly plot, in Goldfinger.
Why It's A Good Option For Action Fans: For my money, Goldfinger is the best Bond movie out there. Whether or not you agree is a matter of personal opinion (there are well over 20 different Bond movies available), but Goldfinger touted a bigger budget, more gadgets, more exotic locations, and tongue-in-cheek humor — many of the well-established elements seen in the series for generations to come. It also has a memorable villain, quotable dialogue, and some of the most impressionable moments in the franchise's extended history. It's an exceptional action movie, and it was the Bond movie that pushed this long-running franchise into blockbuster status. It was also the first Oscar-winning Bond movie to boot. Suffice to say, Goldfinger is a golden Bond film.
Stream it on Amazon Prime here.
The Adventures Of Tintin (2011)
Based on Hergé beloved graphic novels, The Adventures of Tintin follows our lead as he goes treasure hunting with Captain Haddock.
Why It's A Good Option For Action Fans: Steven Spielberg is considered one of our finest filmmakers for a reason. The Oscar-winning director can make movies of varying genres, from stirring dramas or swashbuckling action-adventures, and he can make the one just as good as the other. In fact, some argue Spielberg is at his best making rip-roaring action flicks. I'm not sure if I agree (I'm an all-around fan!), but I do believe The Adventures of Tintin is one of his finest '10s movies. It didn't get the awards consideration of War Horse, Bridges of Spies, or The Post, but this plucky, fun-loving adaptation is packed with sensational set pieces, a charming cast of characters, and exciting action scenes.
Stream it on Amazon Prime here.
'71 (2015)
A British historical thriller centered around the heights of The Troubles in 1971, '71 follows a British solider (Jack O'Connell) who becomes separated from his unit during a Belfast riot.
Why It's A Good Option For Action Fans: Move over, 1917. For me, Yann Demange's '71 is the better, more stirring war drama from another era. Featuring a commanding lead performance from the extraordinary (and undervalued) Jack O'Connell, this suspenseful thriller finds our rogue soldier fighting for his life as he trenches through the horrors of war. It's a commanding, exhilarating movie, one that shows a great promise for Demange that he hasn't matched since (though White Boy Rick, his follow-up, isn't without its moments). The tales and terrors of war continue to resonate over time, though '71 is one of the finest movies in recent history to get right inside the action.
Stream it on Amazon Prime here.
The Avengers (2012)
From writer/director Joss Whedon, The Avengers sees our world-saving team of superheroes — specifically, Iron Man (Robert Downey Jr.), Hulk (Mark Ruffalo), Thor (Chris Hemsworth), Captain America (Chris Evans), Black Widow (Scarlett Johansson), and Hawkeye (Jeremy Renner) — assembling for the first time in order to stop the mischievous Loki (Tom Hiddleston) from wrecking havoc on Earth.
Why It's A Good Option For Action Fans: Admittedly, there's a good chance you've already seen The Avengers. The first-ever Marvel team-up mega-movie was an astonishing accomplishment when it was released eight years ago, though it's quaint compared to its successors, Age of Ultron, Infinity War, and Endgame, respectively. Nevertheless, the exciting, spunky mash-up movie is a surprisingly breezy, energetic feat, never feeling bogged down by the restraints of combining all these larger-than-life figures into one thrilling, jam-packed super-blockbuster. The result is a super-sized good time.
Stream it on Amazon Prime here.
Which is your favorite action movie currently streaming on Amazon Prime? What are some action movies you recommend checking out on the site? Let us know in the comment section below!
Your Daily Blend of Entertainment News
Will is an entertainment writer based in Pittsburgh, PA. His writing can also be found in The Playlist, Cut Print Film, We Got This Covered, The Young Folks, Slate and other outlets. He also co-hosts the weekly film/TV podcast Cinemaholics with Jon Negroni and he likes to think he's a professional Garfield enthusiast.