Roswell, New Mexico Star Was 'Disoriented' After Playing Dead In Season 2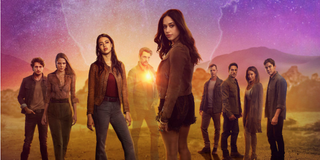 It's rarely shocking these days when a sci-fi drama kills off one of its leading characters, especially in the first season, since the deaths often don't stick. That is exactly what happened with Roswell, New Mexico's Max Evans. After sacrificing himself at the end of Season 1, Max was stuck in the afterlife while waiting for Liz to figure out a way to bring him back from the beyond. As an actor, playing dead was a much different experience for star Nathan Dean, who was rather "disoriented" because of it in Season 2.
Roswell, New Mexico's Season 1 finale threw Liz Ortecho for a loop. In one fell swoop, Liz saw the return of her dead sister and then witnessed Max's death. Naturally, she wasn't about to give up on Max when she'd finally allowed herself to truly love him, and so Liz spent the first few episodes of Season 2 trying to bring Max back from the dead. She ultimately succeeded, but Max had stuck in the afterlife for quite a while. What was it like playing a dead character stuck in a pod for Nathan Dean? Here's what he told TVLine about the experience:
That definitely sounds like a very strange experience. Personally, being underwater for any length of time is scary, but having to do it inside a tank on camera is even more freaky. Thankfully, Max is back in the land of the living, but at least Nathan Dean had some fun doing something else on the show for a change.
However, there's still a lot more mystery to uncover. We still know very little about Max's past, but he's starting to get quick glimpses into his life before he and his siblings came to Earth years ago. Hopefully, viewers will get even more answers soon.
New episodes of Roswell, New Mexico air Monday nights at 9:00 p.m. ET on The CW. For more on what to watch, be sure to check out our list of all the big TV finales airing soon, as well as our complete 2020 summer premiere schedule.
Your Daily Blend of Entertainment News
Your Daily Blend of Entertainment News
Thank you for signing up to CinemaBlend. You will receive a verification email shortly.
There was a problem. Please refresh the page and try again.