The Flash's Mirror Iris Situation Will Get Cleared Up Soon, But It's Not Necessarily A Good Thing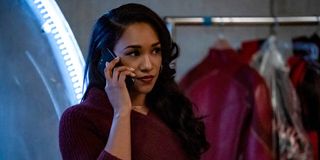 While The Flash's Candice Patton is putting in some solid work playing two versions of Iris, Barry is still unaware that his wife is not who she appears to be. With Mirror-Iris revealed to be working alongside Eva McCulloch, who is still stuck with the real Iris behind the glass, The Flash showrunner Eric Wallace teased that the situation with Iris' double will get cleared up soon, but that may not necessarily be a good thing for everyone in Central City.
In the immediate aftermath of Iris being pulled into the mirror world, Barry felt that something was off with her, though he couldn't put his finger on what it was. Worried that they were growing apart, Barry was reassured by Joe and Mirror-Iris that the changes were simply due to the fact that she had to step up in the wake of Barry's possible death in "Crisis on Infinite Earths." However, that was several episodes ago, and fans have been wondering if Barry will ever figure out the Mirror-Iris situation. Speaking with TVLine, The Flash's Eric Wallace promises that realizations are coming, but it's not so cut and dry. In his words:
Welp. I suppose this wouldn't be The Flash if learning the truth didn't come with "tragic consequences," but at least Barry won't be in the dark much longer. I'd even wager that after learning the truth about Mirror-Iris, the Black Hole plot might take a rather deadly turn. At this point, neither the audience nor Team Flash knows what Carver, the CEO of McCulloch Tech, is really after. Only that he's stealing Eva's science creations...for mysterious reasons. The only reasons to steal things on The Flash.
Meanwhile, Iris is still under the assumption that Eva is a good person, only now she's got two mirror clones to do her bidding in the real world. However, the plot synopsis for Season 6's Episode 16, titled "So Long and Good Night," reveals that Iris will finally grow suspicious of Eva. Personally, I think she will learn Eva is up to no good around the same time that Barry finds out about Mirror-Iris, and the storyline will ramp up from there. You could even say their plots are mirroring each other!
While The Flash's "So Long and Good Night" was scheduled to air on March 31, it was pushed back a week and will now air on Tuesday, April 7 at 8 p.m. ET on The CW. For more on what to watch, be sure to check out our midseason guide.
Your Daily Blend of Entertainment News
Thank you for signing up to CinemaBlend. You will receive a verification email shortly.
There was a problem. Please refresh the page and try again.