6 Never Have I Ever Questions I Still Have After Season 1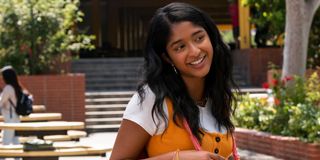 Warning! Spoilers ahead for Season 1 of Netflix's Never Have I Ever.
Never Have I Ever is that standout coming of age story that only comes along every few years or so and is as creatively refreshing as it is sweet and feel-good. The Netflix series, which was co-created by The Office and The Mindy Project star Mindy Kaling and Brooklyn Nine-Nine writer Lang Fisher, follows the story of Maitreyi Ramakrishnan's Devi, an Indian-American teenager, in the months after losing her dad to a heart attack.
With her heart set on losing her virginity to high school heartthrob Paxton Hall-Yoshida and actively avoiding her grief, Devi ends up stomping on everyone else's feelings before finally acknowledging her own. Never Have I Ever is currently trending at number one on Netflix, which we know thanks to the streaming service's Top 10 feature. And, while the Season 1 finale was immensely satisfying and included a great cameo by narrator and tennis legend John McEnroe, there are a few remaining storylines that didn't get wrapped up.
Keeping in mind that the show hasn't been renewed for Season 2, here are six questions that I still have after binge watching Never Have I Ever Season 1.
Will Devi Ultimately Be Team Paxton Or Team Ben?
Devi had a very clear goal in mind throughout the season and that was to become Paxton's girlfriend. Of course, things started out rather awkwardly — she went from lying about just wanting sex to becoming his (reluctant) friend — before they finally kissed. However, they had a falling out and he stopped returning Devi's calls. Then there's Ben, Devi's school nemesis. The pair embody the enemies to friends to lovers trope fairly well.
In the season finale, Ben made sure that Devi got to the beach in time to scatter her dad's ashes and then waited in the car for her. Devi was so touched that he stuck around that she kissed him, effectively ignoring Paxton's call. It puts Devi in a potential love triangle and, given the way her relationships developed with both Paxton and Ben, it's hard to say who she might choose in the long run. Personally, I'm still Team Paxton, while Maitreyi Ramakrishnan is Team Devi, and that's perfectly fair.
Will Devi and Nalini Actually Move To India?
Devi's parents, Nalini and Mohan, immigrated from India before she was born and there was seemingly no thought of ever going back on any permanent basis. Then, Mohan died and Nalini struggled to raise Devi on her own, feeling like she needed some support and the familiarity of her home country.
It did come as a surprise to Devi, however, when it was revealed that her mother was planning on moving them back to India for good. Understandably angry, Devi stopped speaking to her mother and Season 1 ended without answering the question. Nalini seemed to internally contemplate staying, but the decision still seemed like it was up in the air. Honestly, I don't think they will move permanently, but that doesn't mean that they couldn't visit India and extended family in a potential Season 2.
Will Sendhil Ramamurthy Still Show Up In Flashbacks?
Heroes vet and The Flash guest star Sendhil Ramamurthy played Devi's father, though he died of a heart attack in the very first episode of the Netflix series. Still, his presence was felt all throughout Never Have I Ever Season 1, often appearing to Devi as a figment of her imagination or in flashbacks.
Now that Devi has seemingly reconciled with her mother and faced her grief about her dad's death, there's a chance that Mohan's time on the show has come to an end. That said, grief isn't just a feeling someone can turn off and there's still a chance he might continue showing up in key moments from Devi's life through flashbacks. Personally, I'm greedy and just need an excuse to see Sendhil Ramamurthy back on the show in any capacity.
What Will Become Of Kamala's Relationship With Prashant?
Kamala's storyline was a surprisingly good one. Throughout Season 1, Richa Moorjani's Kamala is torn between being in a relationship with her boyfriend Steve (Eddie Lu) or making her family happy by agreeing to an arranged marriage with Prashant (Rushi Kota). Kamala ends up trying to do both to comical effect.
In the end, she breaks up with Steve and dissolves the plans for her arranged marriage to prioritize herself and her postgraduate studies. However, there was a spark between her and Prashant and they agreed to see each other without all the hubbub and formalities. I'm curious to see if they'll stay together in a potential Season 2 or whether Kamala will eventually find someone new.
What's Up With Eleanor's Mom And Will She Come Back?
Everyone on the show seemed to struggle with communicating with their mothers and Eleanor, played by Legends of Tomorrow star Ramona Young, was no exception. Thought to have gotten a singing gig on a cruise ship, her mother Mary ended up returning to Los Angeles and not telling her daughter about it. Naturally, Eleanor was furious when she found out.
While Eleanor and Mary reconciled, Mary ended up leaving again in hopes of pursuing her dreams of being on Broadway. That threw a wrench in the mother-daughter relationship and Eleanor was left to wonder if her mother would ever return. After all, Mary said she wouldn't quit until she landed a Broadway gig and that might take a while. It would be tragic if she never came back for her daughter, and I'd love to see where this story goes.
Will Nalini Ever Consider Going To Therapy?
Devi spent the majority of Never Have I Ever's first season in therapy with Niecy Nash's Dr. Jamie Ryan, who was very patient and understanding with Devi's situation and the dramatic plans she made to avoid discussing her father. Dr. Ryan proved to be a grounding presence throughout the show.
However, the only time Nalini (Poorna Jagannathan) visited Dr. Ryan's office was to get an update on Devi's progress. Nalini was rather dismissive of therapy and didn't think it was something she would be up for. That said, Nalini also had a few epiphanies nearer to the end of Season 1 and, knowing how much therapy helped Devi, Nalini could change her mind and seek it out for herself. After all, Devi wasn't the only one dealing with the grief of losing Mohan.
Never Have I Ever Season 1 is currently streaming on Netflix. For more on what to watch, be sure to check out our full slate of TV shows coming to Netflix this year, as well as our 2020 summer guide to all the series premiering over the next couple of months.
Your Daily Blend of Entertainment News
Your Daily Blend of Entertainment News
Thank you for signing up to CinemaBlend. You will receive a verification email shortly.
There was a problem. Please refresh the page and try again.