6 Outlander Locations I'd Want To Live With Jamie Fraser, Ranked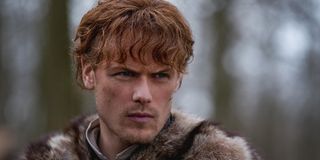 In the span of five seasons so far, Outlander has offered up a number of gorgeous and memorable locations that have become as much a part of the Starz show as its characters. The series has its roots in Scotland, kicking things off in Season 1 in the Highlands where the fictional Craigh na Dun first transported Claire Fraser to the 18th century. Since then, Claire and Jamie's adventures have taken them from the extravagant halls of Versailles to the lush Blue Ridge Mountains of North Carolina, where they seem to have settled for good in Season 5.
Of course, not every Outlander location is created equal. Certain places, like the battlefield at Culloden or Wentworth Prison are not exactly ideal places to live and are far too gruesome. Besides, Jamie Fraser himself wouldn't want to go back there, what with all the bad memories they carry for him, and that's enough to keep these locations off the list.
While there are too many places to count, there are at least six Outlander locations where I'd want to live the rest of my days with Jamie.
6. Lallybroch
This choice is rather obvious considering that Jamie began his life here. It's his childhood home and the first place he really wanted to live in after growing up. The location itself is private, surrounded by a ton of land, but it's close enough to the town to ride in and do business with the locals.
Sure, the place is rather imposing, but it's also a great balance between a semi-big castle and cozy home. Jamie can wander around the house or the surrounding forest to brood if he must (or think intensely, as he is wont to do).
5. Fraser's Ridge, North Carolina
Gifted to him by Governor Tryon in exchange for loyalty to the crown, Fraser's Ridge is stunning on its own merits. The location includes the spectacular view of the Blue Ridge Mountains and Yadkin river, but isn't so close to the dangers of its cliffs. It's a gorgeous place to settle in, with a prime (if a bit off the road) location, and a homey feel that befits my personal taste and Jaime's need to lay roots.
Plus, it's the first place that's really belonged to him so that's enough. Just imagine Jamie sitting, bare-chested, by the fire, wrapped in a blanket, thinking deeply while the flames crackle. The area has bears and sometimes even strangers passing through, but I wouldn't worry too much because Fraser's Ridge is where Jamie is in his element and he'll take care of it.
4. The Shores Of Jamaica
Ah, yes. Nothing screams romance like the sandy beaches of Jamaica. This Outlander location from Season 3 — much of which was actually filmed in Cape Town, South Africa — is dazzling and tropical, a stepping stone before the Frasers land in the New World. Jamie fit right into the world of parties, politics, and valiant rescues.
What's more, the sun is nurturing and the sea is close enough to wade into, which is fun for an afternoon of splashing around in the waves. I can see it now: drinking out of coconuts, building a home made out of foliage, thatched roofs, and woven reeds, and Jamie, shirtless on the beach catching fish for lunch. It would be a beautiful place to live with the red-headed Scot.
3. The Stately Home At River Run
Fraser's Ridge is currently where Jamie and his family call home, but River Run — which is actually filmed in Creiff, Scotland — where his aunt Jocasta takes up residence, is arguably a far more beautiful place. Located right on the river, there's plenty of land, and it's simply ideal for events like weddings, gatherings, and other parties.
Now, if I were to live there with Jamie, we'd start fresh, make the place a bit more homey while keeping to its elaborate beauty (and obviously not engage with anything having to do with slavery). Jamie could work the land and hunt, while being just a short ride away from Wilmington to conduct business. Sunsets could be spent sitting on the porch, watching as the light fades on the horizon while drinking some whiskey and wine.
2. The Lavish Palace of Versailles
Naturally the most lavish location on this list, who wouldn't want to live out their days with Jamie here? The garden — the filming of which took place at Drummond Castle Gardens in Scotland — is to die for, organized and picturesque. A nice walk with Adso the cat at sunset and a quick stop to enjoy life and literally smell the roses? Oui, oui, sign me up!
In addition to the beauty of the garden, the halls and rooms of Versailles are just as incredible. The palace is grand enough to host parties in and filled with vast and ornate rooms — such as the enormous wall-to-wall library — to wander through while getting lost in thought. I can just imagine: Jamie sitting with his wee glasses, reading in front of the large window overlooking the garden. It's attractive and homely all at once.
1. Craigh na Dun
Look, I'd be remiss to list Outlander's locations and not mention Craigh na Dun. Although the stones themselves aren't actually real, the location — which is filmed at Scotland's Rannoch Moor — is not only important to the series, but it's a gorgeous spot all on its own. Hear me out: It overlooks mountains, a river, is shaded by quite a few trees, and sits high enough on the cliff for a phenomenal view of the city down below.
Yes, Craigh na Dun is made up of a bunch of stones and isn't actually a place to live (at least traditionally speaking). However, just like Fraser's Ridge was simply land and forest before Jamie built a home there, so too can be done with Craigh na Dun. With some imagination, a home can be built to surround the stones or be close enough to them. It's a unique and private location in between Jamie's home at Lallybroch and the road to Clan MacKenzie's Castle Leoch and I, for one, would definitely want to live there with the Highlander.
New episodes of Outlander Season 5 air Sundays at 8 p.m. ET on Starz. As TV seasons begin wrapping soon, be sure to check out our complete list of all the big TV finales coming up this spring and summer.
Your Daily Blend of Entertainment News