Agents of S.H.I.E.L.D.'s Chloe Bennet Just Shot Down A Major Quake Rumor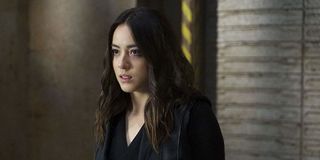 When Marvel's Agents of S.H.I.E.L.D. first premiered back in 2013, Clark Gregg's Phil Coulson was the show's main draw but, in time, other characters have emerged as standouts. This especially includes Daisy "Quake" Johnson, who's played by Chloe Bennet. With the show quickly approaching its final season, fans are facing the reality of no longer being able to watch their favorite heroes. However, a recent rumor suggested that Quake's story may not be the end of Quake's story, but Chloe Bennet has news that's sure to disappoint Quake stans.
The rumor, in question, hinted that the character of Quake would be headed to Disney+ for a brand-new project, which likely got many fans excited. Yet Chloe Bennet took to Twitter to confirm that the rumors are untrue:
Chloe Bennet has a lot of affection for her seismic-powered superheroine, and her layered performance has managed to strike a chord with audiences. With this, one can see why both she and fans would be disappointed that nothing appears to be in the works for the character.
Though the character has mostly appeared as part of ensembles in the comics, the idea of Daisy Johnson getting a solo project isn't far-fetched. Her inclusion in Agents of S.H.I.E.L.D. has only increased her popularity among readers and viewers. This has even led to Johnson being featured in the animated Marvel Rising specials, where she is also voiced by Bennet. So creating a starring vehicle for her could be a smart move.
The Marvel Cinematic Universe has given Daisy Johnson an interesting story that's played out well over the past few years. Originally introduced as Skye in the S.H.I.E.L.D. pilot, the character began as a hacktivist who gets on Phil Coulson's radar. After joining his team, the two become close, forming a father/daughter relationship in the process.
Her arc would take a serious turn in Season 2 when her birth name and status as an Inhuman are both revealed. From here, she takes on the Quake moniker and joins the ranks of the superheroes she idolized. Still, she remains the warm and dry-witted character fans have come to love.
In the upcoming seventh season, Quake, like her allies, has landed in the 1930s, where the team continues their fight with the extraterrestrial Chronicoms. What lies ahead for Daisy by series' end is uncertain, but there's likely have something special planned.
It's bittersweet to know this season could be the final time we see Chloe Bennet's Quake on our screens. Nevertheless, we can still take pleasure in watching the final leg of her S.H.I.E.L.D. journey. Plus, we can always hope she'll be brought back sometime in the future.
The final season of Agents of S.H.I.E.L.D. premieres on Wednesday, May 27 at 10 p.m. ET on ABC.
Covering superheroes, sci-fi, comedy, and almost anything else in film and TV. I eat more pizza than the Teenage Mutant Ninja Turtles.
Your Daily Blend of Entertainment News
Thank you for signing up to CinemaBlend. You will receive a verification email shortly.
There was a problem. Please refresh the page and try again.