Sweet Magnolias Ending: 7 Major Questions We Have After Season 1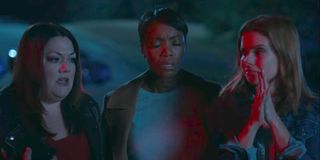 Sweet Magnolias is the new hit Netflix series that follows three lifelong friends: Maddie (JoAnna Garcia), Helen (Heather Headley), and Dana Sue (Brooke Elliott). The series opens with Maddie in the middle of a major divorce, as she becomes the latest town gossip star. Sweet Magnolias Season 1 follows the women as they deal with romantic relationships, motherhood, their friendship, and running their businesses. Though the new series had a relatively quiet first season in terms of major twists, it saved all the explosive moments for the Sweet Magnolias ending.
The ending left us wanting more, and holding our margaritas, as we wait for news of a renewal for another season. The season finale left us with tons of questions, so let us freak out together and ponder what could be ahead for Sweet Magnolias Season 2.
Warning: I will be discussing Sweet Magnolias Season 1 spoilers. If you haven't finished the season, then continue on but know that you'll be majorly spoiled.
Who Was The Passenger In The Car Accident?
This is probably the biggest question haunting Sweet Magnolias fans right now. The season ended with Bill (Chris Klein), Maddie, Dana Sue, Helen, and Ronnie (Brandon Quinn) rushing to a car accident involving Kyle (Logan Allen) and a mysterious passenger. Last we saw Kyle, Jackson (Sam Ashby) took over his friend's date with Jackson's sister Nellie (Simone Lockhart) to throw a prom afterparty. Jackson and Tyler (Carson Rowland) got into a fight after Jackson kept teasing Annie (Anneliese Judge) about her drunk phone call to Tyler. Kyle jumped in to help his brother, and Tyler told him to stay out of it.
Kyle yelled about Tyler ignoring him, and then he took off running. Tyler, Nellie, Annie, CeCe (Harlan Drum), and Annie's date Simon (Michael May) were all running after Kyle. This means one of these people are likely to be the passenger. I believe Sweet Magnolias could take three routes with this storyline.
The first (and most likely route) is that Tyler is the passenger. He may have run after his brother and jumped into the car with him before Kyle crashed. If it is Tyler in the car, I don't think either brother will die from this accident, but I think Tyler could get hurt and have his arm damaged so bad that he can't play baseball anymore. If that's the case, It'll likely cause a major barrier between the two brothers. Kyle would feel guilty, and Tyler might be bitter towards him because of it.
The other route that I think could happen is that Annie is the passenger. Again, she'd likely be hurt, but survive. However, in this scenario, the accident would hurt Dana Sue and Maddie's friendship. Maybe making next season about them trying to repair it because of Kyle's actions, and losing trust with each other. The least likely option is that Nellie is in the car and dies. It seems like the most dramatic possibility, and would lead to a lot of legal drama and darkness that I don't think Sweet Magnolias really wants to tackle.
Simon or CeCe being the passenger makes zero sense, so those two as choices seem the least likely.
Who Are Isaac's Parents?
Before Dana Sue got a call about the accident, Isaac (Chris Medlin) asked her if she was his mother. He assumed this after seeing her flirty friendship with Micah (Marland Burke). The viewers didn't see her response to his question, instead we saw the aftermath of them having a heartfelt moment. Now, here's my theory on Isaac's parents. They are not Dana Sue and Micah.
My theory is that they are Peggy (Brittany L. Smith) and possibly Ryan (Michael Shenefelt). I suspected that Peggy might be Isaac's mother during the episode where the prom picture was brought up, and Peggy got nervous and said her family was away at that time. In the finale, Peggy was very cryptic with Helen. She said she knew her pain, and if they were friends, she would know what she meant.
Peggy also seems to hate the Sweet Magnolias, but we have no clue why. She seemed happy that Helen finally lost Ryan, so that is why I think Ryan being the dad is a possibility. Helen and Ryan had an on-again-off-again relationship most of their lives. Maybe at one point in their off-phase, Ryan and Peggy hooked up when they were teens. She became pregnant, and left Serenity to have the baby in secret. Following this theory, I don't believe that Ryan knew she was pregnant and had their child, but I think it would be ironic if the man so set against being a father, finds out that he is one.
What's Next For Helen And Erik ?
Sweet Magnolias made me adore Erik (Dion Johnstone) and Helen, only to have Ryan come back and interrupt their budding romance. Ryan wasn't nearly as horrible as I hoped, but I'm glad that Helen and him are over. I believe this will lead to Erik and Helen growing closer. Will they move forward with a friendship that slow burns into romance? This is definitely something we need to see more over if Season 2 happens.
What Happens Next With The Love Square Between The Teens?
Sweet Magnolias started Season 1 as a love triangle between Tyler, Annie, and Kyle. Kyle liked Annie, but she liked Tyler. Tyler just saw her as a little sister figure. Now, everything I know about TV and movie romances tells me that Tyler will start to like Annie at some point. Kyle is out of the triangle because he's clearly being set up to have a romance with Nellie. Kyle is out and Simon is in, and so is Cece. Currently, it's hard to tell the true depth of Tyler's interest in CeCe -- is he really into her, or does he just want a girlfriend? -- but he could start to develop feelings for her too.
Annie also doesn't seem extremely into Simon, but that could also change. So we have a lot of potential teen drama coming in Season 2. I believe that eventually all of this is leading to Annie and Tyler ending up together but possibly not until Season 2 or later.
Will Noreen Return?
Noreen (Jamie Lynn Spears) made the biggest boss move of the season by finally realizing Bill was no good for her, and returning to her family. Now, of course, Noreen has to return at some point, even if to drop off the kid to give Bill his visitation rights. The question more so is will she ever return to Bill as his girlfriend/wife. If I had to guess, I say probably not. I don't think she wants any part of Bill (rightfully), and she never quite fit in in Serenity. It's too soon to know if Jamie Lynn Spears will be upped from special guest star to series regular, but it's possible Noreen will make a few appearances in Season 2 and not as a main resident of Serenity.
Will Dana Sue Take Ronnie Back?
First off, I feel personally attacked by the Sweet Magnolias casting team for casting Tommy Dawkins (Brandon Quinn) as Ronnie. I'm always going to root for Brandon Quinn when I see him in stuff. I went into the season, not meeting Ronnie, but very sure that I'd hate him, then Big Wolf on Campus walks in as Ronnie, and now I have to root for Ronnie and Dana Sue.
I also have to believe that the writers are also on that team. Jeremy (Chase Anderson) was thrown into the show at the last minute. So, I, Dana Sue, and other viewers don't really have any attachment to him as a character, so it doesn't seem like the writers want us to love him the way we have grown to love Cal (Justin Bruening) and Erik. They also made a point to show the chemistry that still exists between Ronnie and Dana Sue, and that he might actually be trying to make amends to her for his past.
If any of the Sweet Magnolias are going to get back with their no-good exes, my guess is that it will be Dana Sue with Ronnie. At least that's what I hope (but I'm not happy about rooting for them).
Will Maddie Take Bill Back?
Bill asked Maddie to give him another chance. Then they got a call about Kyle and the accident. She had just broken up with Cal, and Noreen was long gone. Logically, and reasonably, Maddie should laugh in his face and say "Hell no!" But everything I know about TV exes, when kids are involved, tells me that Maddie might actually try to make it work with Bill. However, she'll eventually realize that it's a mistake and dump him... and get back together with Cal. At least that's where I believe the show is heading with Bill wanting her back, but I would love to see the laughing in his face and a hard-cold rejection.
Sweet Magnolias is just the engaging and heartfelt series to kick off your summer. It's still unknown whether Netflix will send it to the land of cancellations or give it another season, but I hope it gets a renewal order, especially with all those cliffhangers.
Your Daily Blend of Entertainment News
Spent most of my life in various parts of Illinois, including attending college in Evanston. I have been a life long lover of pop culture, especially television, turned that passion into writing about all things entertainment related. When I'm not writing about pop culture, I can be found channeling Gordon Ramsay by kicking people out the kitchen.