What To Watch On Netflix If You Liked Sweet Magnolias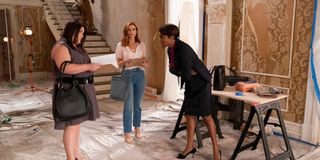 Netflix has become the champion when it comes to the streaming wars. Though others are trying to take its crown, Netflix is the most consistent with producing a variety of content that appeals to viewers of various backgrounds and entertainment preferences. It's also constantly producing series and movies that gain a lot of buzz during its initial release. One of Netflix's current hit series is Sweet Magnolias.
Sweet Magnolias follows the three best friends Maddie (JoAnna Garcia), Dana Sue (Brooke Elliott), and Helen (Heather Headley) as they deal with life in the small-town Serenity. The series begins with Maddie stuck in the middle of a scandal as she just finalized her divorce from her ex-husband Bill (Chris Klein), who cheated on her with one of his nurses Noreen (Jamie Lynn Spears). It's about Maddie, Dana Sue, and Helen figuring life out and trying to grow through the madness.
Sweet Magnolias is a wholesome series that feels designed for the Hallmark Channel crowd and Lifetime movie aficionados, which makes it perfect content for some feel-good, pick-me-up TV. If you've already binge watched the entire first season, because of course you did, here's some other shows and movies to check out on Netflix.
Gilmore Girls (2000)
Gilmore Girls follows mother and daughter duo Lorelai (Lauren Graham) and Rory (Alexis Bledel) as they deal with typical growing pains (e.g. love, work, kooky co-workers and friends, etc.). What usually gets this dynamic pair through it all is each other. Gilmore Girls is a show very much about the powerful bond between a mother and a daughter.
Why It's a Good Option for Sweet Magnolias fans: Gilmore Girls and Sweet Magnolias share in their belief in the power of the family bond. Dana Sue and Maddie may not be perfect moms, but they definitely give everything to their children, for better or worse, and that's the same kind of energy Lorelai gives to Rory.
Stream it on Netflix here.
Our Souls At Night (2017)
Robert Redford and Jane Fonda play Louis and Addie, two widowers who have been next door neighbors for years. Addie finally decides to make a connection with him and the two start a platonic friendship to help them deal with their mutual loneliness, which grows into something deeper.
Why it's a Good Option for Sweet Magnolias fans: Our Souls at Night has the same general sweet, simple small town vibe as Sweet Magnolias. It also deals with two people finding love after a major loss. Maddie starts to find love after the divorce with Cal (Justin Bruening), and Addie and Louis start to find love with each other after their spouses die. Our Souls A Night and Sweet Magnolias both show that love can happen even when you least expect it.
Stream it on Netflix here.
Queer Eye (2018)
This reboot series follows five gay men as they use their expertise to help transform everyday people into the best versions of themselves. The Queer Eye team consists of Jonathan Van Ness, Antoni Porowski, Tan France, Karamo Brown, and Bobby Berk.
Why It's a Good Option for Sweet Magnolias fans: Queer Eye and Sweet Magnolias are both feel good TV. They're TV shows that you can watch and they help you feel better about your life and the world. These series make you hopeful and inspired. Sweet Magnolias and Queer Eye are both series to watch when you need a little mood boost.
Stream it on Netflix here.
Good Sam (2019)
Good Sam stars Tiya Sircar as Kate Bradley, a reporter who tries to find the mysterious Good Sam, a person who leaves cash, seemingly, randomly on strangers' doorsteps. As Sam tries to find out the good samaritans identity, she finds love and learns the power of acts of kindness.
Why it's a Good Option for Sweet Magnolias fans: Good Sam and Sweet Magnolias are stories of hope. For Good Sam, the hope comes in the generosity of strangers. In Sweet Magnolias, the hope is from the bonds of these three women, and also their love and belief in this town. Good Sam and Sweet Magnolias are also great content to watch with the family (though Sweet Magnolias does have at least one scene that may not be appropriate for younger audiences), and to give the local cynic a little bit less cynicism.
Stream it on Netflix here.
Hart Of Dixie (2011)
Rachel Bilson plays Zoe Hart in this former CW dramedy. It follows New York doctor Zoe as she moves to Alabama. The new change of scenery helps Zoe discover herself, and find the charm in the South. Hart of Dixie ran on the CW for four seasons.
Why it's a Good Option for Sweet Magnolias fans: Sweet Magnolias and Hart of Dixie are both set in fictional towns in the South. Therefore, they rely partly on Southern charm, and the small town life narrative to tell their stories. The colorful townsfolk and town pride are important characters in both series. They also have a bit of a fish out of water storyline going on, with Hart of Dixie, Zoe is that character. With Sweet Magnolias, Helen is from Serenity, but she's also still an outsider because she left and tried to escape it before returning home.
Stream it on Netflix here.
Like Father (2018)
Like Father stars Kelsey Grammer and Kristen Bell as Rachel and Harry Hamilton, an estranged father and daughter pair. Rachel gets left at the altar, then binge drinks with her father, whom she hasn't seen in years, and they end up on her honeymoon cruise. They're stuck on a boat together, so all they can really do is try to repair their relationship.
Why it's a Good Option for Sweet Magnolias fans: Even the best parents have complicated relationships with their children. We see Dana Sue and Maddie try their best to do things right for their children, but it's still not quite enough. We also see the opposite in Maddie and Dana Sue's ex-husbands. Who aren't exactly in the running for fathers of the year, though Bill at least tries in his own way. If you're in the mood for more child-parent drama after finishing Sweet Magnolias, then Like Father is a great choice. It's funny, while still being heartfelt and sincere.
Stream it on Netflix here.
Anne With An E (2017)
Anne Shirley rises in this reboot series based on the Anne of Green Gable book series. Anne with an E follows spirited Anne (Amybeth McNulty) as she comes to live with unmarried brother and sister Marilla (Geraldine James) and Matthew (R.H Thomson) Cuthbert. Her dreamer sensibility and determination makes anyone who crosses her path fall in love with her.
Why It's a Good Option for Sweet Magnolias fans: If strong female characters are your thing then you're in luck because Anne Shirley, Maddie, Dana Sue, and Helen are the kind of strong female characters that are kind, determined, and ready for a great adventure, in any way it might strike.
Stream it on Netflix here.
When Calls The Heart (2014)
When Calls the Heart is a Hallmark original series that follows a young teacher named Elizabeth Thatcher (Erin Krakow) as she leaves her high-society life in the early 1900s to work her first teaching job in a coal-mining town in Western Canada. She finds love and herself along the way.
Why It's a Good Option for Sweet Magnolias fans: Love, adventure, growing up, and small-towns are both prominent aspects of When Calls the Heart and Sweet Magnolias. Each series gives their own special spin on the beauty that comes with the community small towns bring. It's a 'we're all in this together' kind of sentiment that radiates from both series.
Stream it on Netflix here.
Northern Rescue (2019)
This Canadian drama follows a recently widowed father of three, John (William Baldwin), as he moves back to his rural hometown of Turtle Island Bay to give his family a new start. He moves in with his sister-in-law Charlie (Kathleen Robertson).
Why it's a Good Option for Sweet Magnolias fans: Northern Rescue is another series about a family having to cope with a major change and using the power of family to overcome it. In Sweet Magnolias, Maddie's family is adjusting to their new life post-divorce. In Northern Rescue, they're adjusting to a new life, in a new town without their mother. Both of the main parents in these series, after a major shake-up, put a lot of time and effort into making life comfortable for their families.
Stream it on Netflix here.
Virgin River (2019)
This Netflix drama follows Mel (Alexandra Breckenridge), a nurse practitioner who becomes a midwife in the town of Virgin River. She leaves her life in LA to escape her past and heal.
Why it's a Good Option for Sweet Magnolias fans: Add a dash of small-town, painful past, nosey neighbors, city girl who doesn't quite fit in at first, but makes it work later, and then you have the premise of many shows and movies but this time it's the plot for Virgin River. Clearly, Sweet Magnolias shares many of those similar themes, including finding a new romance.
Stream it on Netflix here.
The entire first season of Sweet Magnolias, and all these other series and movies, are streaming on Netflix. If you need some good ol' small-town hospitality, then this is the collection of shows and movies to watch. You'll feel a little bit more hopeful after watching them.
Your Daily Blend of Entertainment News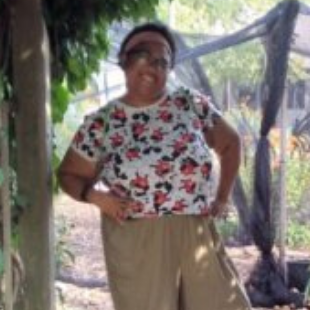 Spent most of my life in various parts of Illinois, including attending college in Evanston. I have been a life long lover of pop culture, especially television, turned that passion into writing about all things entertainment related. When I'm not writing about pop culture, I can be found channeling Gordon Ramsay by kicking people out the kitchen.