One Grey's Anatomy Alum Understands Why Fans Are Still Not Rooting For Him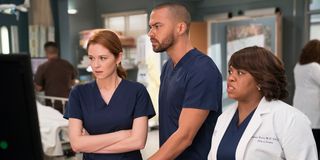 April Kepner got her happy ending with Matthew Taylor in Season 14 of Grey's Anatomy, but it was arguably April's relationship with Jackson Avery (which fans lovingly referred to as Japril), her best friend turned husband turned ex-husband, whom fans were rooting for. After several seasons of ups and downs between both couples, Grey's Anatomy alum Justin Bruening understands exactly why fans are still not here for his character's relationship with April.
Justin Bruening's Matthew often played second fiddle in April's life, especially when it came to her relationship with Jackson. The pair may have gotten married in Season 14, but April's heart remained with Jackson for a long time. Hell, she even left Matthew at the altar to run away with Jackson at one point. Even after all this time, Bruening still knows how fans feel about him. Here's what he told EW when asked if he was aware that Japril will carry on in most fans' hearts:
It seems like Justin Bruening is okay with fans loving April and Jackson together more than April and Matthew. He seems even more okay with it, knowing that Matthew "won" in the end. Married or not, Japril has far more history together, so it's understandable why viewers are still so attached.
Grey's Anatomy has millions of fans who tune in weekly. Sixteen seasons later and they're still very vocal about the couples they prefer, and aren't ashamed to declare their love for April and Jackson to Justin Bruening's face, apparently. The actor recalls a run-in with a fan who was clearly Team Japril. Here's how Bruening says it went down:
It's nice to know that he understands his character's purpose on Grey's Anatomy. Team Japril forever! Justin Bruening has since moved on from Grey's Anatomy to star in the Netflix series Sweet Magnolias, opposite Reba vet JoAnna Garcia Swisher. Maybe he'll have better luck with the fans this time around. The series is now streaming on Netflix.
Grey's Anatomy has already been renewed for Season 17 and is set to return in the fall to ABC. For more on what to watch in the meantime, be sure to check out our 2020 summer TV premiere guide.
Your Daily Blend of Entertainment News