Grey's Anatomy's 10 Most Heartbreaking Moments After McDreamy's Death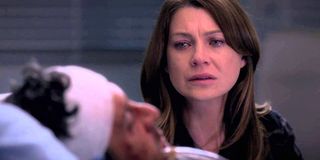 Grey's Anatomy had plenty of heartbreaking moments before McDreamy's death and still quite a few afterward. Dr. Derek "McDreamy" Shepherd (Patrick Dempsey) died in Grey's Anatomy Season 11 in 2015, and the currently airing Season 16 just had an episode with a major focus on how Derek died. It made all of that heartbreak fresh again for Meredith Grey (Ellen Pompeo) and fans. Grey's Anatomy pressed pause on killing off main characters after Derek -- wisely seeing that as enough for now.
But the tears didn't all end there. Here are 10 of Grey's Anatomy's most heartbreaking moments after McDreamy's death, listed in chronological order. Feel free to play "Chasing Cars" in the background as you read on...
Japril The Movie (Season 12)
Grey's Anatomy Season 12's "Japril The Movie" episode was titled "Unbreak My Heart," but Japril fans' hearts are still broken almost four years later. Jackson Avery (Jesse Williams) gave April Kepner (Sarah Drew) divorce papers in the February 2016 episode, and that prompted a flashback down memory lane showing their entire relationship, including the loss of baby Samuel. It was a heartbreaking episode on every front, ending with a gut punch -- April was pregnant again.
Thankfully, baby Harriet is still alive and well, but even though Japril The Movie got a sequel in Season 13, the characters just weren't destined for a happy ending. The Powers That Be decided on other plans for April (see below) and I'm still upset about it. #Japril4Eva
Callie Leaves With Sofia (Season 12)
Grey's Anatomy Season 12 was the first one without McDreamy and the last one with Dr. Callie Torres (Sara Ramirez) -- at least for now. Things were rough for Callie in her final season. Turns out, her new girlfriend Penny was one of the doctors responsible for Derek's death. As things were coming to a close, Callie and Arizona (Jessica Capshaw) couldn't agree on a custody arrangement for Sofia, so they went to court. The court gave sole custody of Sofia to Arizona, breaking Callie's heart.
However, at the end of the season, Arizona allowed Callie to move with Sofia to New York. That was it for Callie and that was it for Calzona fans. Heartbreak all around.
Maggie's Mother Dies And, Later, Her Cousin (Season 13)
No relatives are safe on Grey's Anatomy. Dr. Maggie Pierce (Kelly McCreary) has had a tough run of things in the past few seasons. She's Meredith Grey's biological half-sister but she was raised by adoptive parents Diane and Bill Pierce. In Season 13, it was discovered that Maggie's mom Diane had inflammatory breast cancer. The storyline between mother and daughter played out across several episodes, including some brief hope that Diane might recover. When that proved not to be the case, Maggie painted her mother's nails as Diane tried to give her daughter some final life advice.
That was a heartbreaking episode and -- jumping forward -- Maggie had another unexpected family tragedy in Season 16 with her cousin Sabie. Sabie not only died right after Maggie met and bonded with her, Sabie died on Maggie's own operating table -- after Sabie and her father both objected to the idea of Maggie being the one to do the surgery. Talk about traumatic.
Stephanie Quits (Season 13)
Dr. Stephanie Edwards joined Grey's Anatomy in the Season 9 premiere, right after the deadly plane crash in the Season 8 finale. When the news came out that actress Jerrika Hinton had been cast in a new HBO show, fans worried that Shonda Rhimes was going to kill off another main character. Thankfully, that's not what happened. But what did happened was still heartbreaking -- Stephanie quit in the Season 13 finale.
She had a heroic final episode during the big hospital fire (how is that place even still standing after so many disasters?) and when it became clear she would survive, she decided it was time to leave the hospital. Shonda confirmed that it was Jerrika Hinton's choice to leave the show to pursue other creative opportunities, but she didn't want to kill off another character.
Bailey And Ben Give Tuck "The Talk" (Season 14)
"Personal Jesus" was an interesting episode because it had the accidental death of Jo's abusive husband Paul (Matthew Morrison), which wasn't heartbreaking at all -- it was darn-near comedic -- juxtaposed with a serious exploration of racial profiling. A handcuffed 12-year-old boy named Eric was brought to Grey Sloan after police officers shot him when he was trying to get into his own home through a window. (He forgot his keys.) Officers kept treating Eric like a criminal, and Eric eventually died.
It prompted Bailey and Ben to give 13-year-old son Tuck "The Talk" about how to act if arrested by police, and how he can't act the same as his white friends. It was another raw, real, powerful, heartbreaking slice of real life from Grey's Anatomy.
April And Arizona Leave (Season 14)
It was a shock to fans when news spread that Sarah Drew and Jessica Capshaw were leaving Grey's Anatomy, meaning we'd lose the characters of April Kepner and Arizona Robbins. It was even more shocking to learn that the decision was not the choice of either actress. Fans worried April and/or Arizona might be killed off. Thankfully, that was not the case. But their departures in the Season 14 finale were still heartbreaking.
April had a beautiful episode earlier that season, "One Day Like This," with a lesson in faith from a rabbi. At the end of the season, April had a surprise marriage to her old flame Matthew. Meanwhile, Arizona head out for a new life in New York, presumably with Callie, who was newly single. So both characters ended the season on happy notes, but it was still heartbreaking -- and confusing -- to know we as viewers would not get to see what happened next.
Owen And Amelia Get Ugly (Season 15)
I'm not always a fan of Owen Hunt (Kevin McKidd) and he really gets vicious in fights with ex-wife Amelia Shepherd (Caterina Scorsone). In "Blood and Water," Owen and Amelia met with a lawyer and hit a speedbump over shared custody of Leo. It led into a fight about Teddy, who was pregnant at that point with Owen's baby, the baby he created when he was on a break with Amelia. Amelia said breaking up with Owen was a moment of clarity for her. He said it was actually her fault because the alternative was love and she's fundamentally incapable of love. (Ouch.) He said he tried to convince himself it was all her brain tumor, but it's really her.
It was an ugly showdown that met its match in Season 16 when Amelia and Owen had another baby fight. This time Owen was mad because Amelia was pregnant with Link's baby, when part of the reason Owen and Amelia had broken up was because she didn't want a baby. Owen's words were especially harsh considering Amelia's heartbreak with her "Unicorn Baby" Christopher on Private Practice. But it's just more proof of why "Omelia" was not destined to work out.
Vic And Ripley's Station 19 Crossover (Season 15)
I wasn't a big Station 19 viewer but I watched the crossover with Grey's Season 15 to see the heartbreaking results for Vic and Ripley. Station 19's Seattle Fire Chief Lucas Ripley (Brett Tucker) collapsed outside a flower shop and was taken to Grey Sloan. It made his relationship with Victoria "Vic" Hughes (Barrett Doss) public to the rest of the Station 19 firefighters. What started in Grey's Anatomy's "What I Did for Love" continued in Station 19's "Always Ready," with Ripley's health getting worse and Vic misunderstanding the situation until it was almost too late.
When Vic finally arrived back at the hospital, Ripley was on his deathbed. She imagined they were on vacation together with sand in their toes, and he wanted to get married right then and there. Instead, he died in her arms. It gave Grey's fans Derek and Denny flashbacks in the most heartbreaking way.
Cece Dies (Season 15)
Grey's Anatomy has new patients every episode, and sometimes those patients die. Every so often, one of those patient deaths really hits hard, and that happened with Cece Colvin. After some gentle nudging from her professional matchmaker patient, Meredith hired Cece to help her find love in Season 15. Cece returned across several episodes, until that windstorm blew the power out. It was terrible timing for a power outage for Cece, with Meredith trying to get to her for surgery. Cece's heart surgery went well and the heart seemed to beat on its own.
Things got complicated with her kidney transplant, though; Cece coded and couldn't be resuscitated. After Cece died, Meredith told her about her love triangle at the time between DeLuca and Link. She said she was happier than she'd been in a long time. She thanked Cece as she covered her body in goodbye. Fans were heartbroken to lose the lovable love guru.
Jo Meets Her Birth Mother/The Consent Episode, Season 15
"Silent All These Years" was one of the most powerful and heartbreaking episodes Grey's Anatomy has ever produced. Jo Wilson (Camilla Luddington) and Alex Karev (Justin Chambers) were talking about maybe starting a family, but Jo wanted to know more about her genetic history. She ended up tracking down her birth mother (played by Michelle Forbes) and they had a harrowing talk at a diner. The visit revealed Jo was the product of rape. The whole encounter was so traumatic for Jo, it basically put her out of commission for the rest of the season, shutting her out from Alex and everyone else.
At the same time, the episode followed a woman who was admitted to Grey Sloan after being sexually assaulted, and emphasized the importance of consent by going step-by-step through the hospital's procedures to help and protect her. The episode was Grey's at its best, even if it felt like the worst for Jo.
Grey's Anatomy has been renewed through at least Season 17 so I have no doubt many more heartbreaking moments are still to come. Grey's Anatomy Season 16 continues Thursdays at 8 p.m. ET on ABC. Keep up with everything heading to TV in early 2020 with our handy winter/spring premiere schedule.
Your Daily Blend of Entertainment News
Gina grew up in Massachusetts and California in her own version of The Parent Trap. She went to three different middle schools, four high schools, and three universities -- including half a year in Perth, Western Australia. She currently lives in a small town in Maine, the kind Stephen King regularly sets terrible things in, so this may be the last you hear from her.