Khloe Kardashian Responds To Fans Who Say She Doesn't Look Like Herself Anymore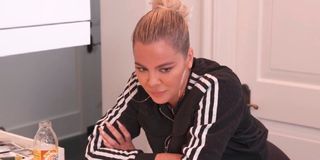 Khloé Kardashian is no stranger to the limelight or controversy, and she's recently found herself in the middle of both. After posting several photos of herself and tagging the salon, hairstylist, and makeup artist who worked on her look for the photos, several fans began commenting that there was something different about her appearance. But Kardashian didn't stay silent, as she responded to one of the fans who claimed she doesn't look like herself anymore.
The gallery photo post in question included two separate poses of Khloé Kardashian with her hair slicked back in an updo. The third in the set was a brief video of Kardashian striking a few different poses and blowing a kiss for the camera. The Keeping Up with the Kardashians reality star captioned the Instagram post with "The Mondayest Thursday ever." One commenter pointedly asked her why she looks so different in her photos. Kardashian made a sarcastic quip in response. Check out what she wrote below (via Instagram):
Khloé Kardashian's "weekly face transplant" comment definitely indicates that she's tired of those kinds of questions. The comments section of this particular post ranged from fans defending Kardashian's appearance to others disparaging her. Quite a few suggested that she's looking more like big sister Kim Kardashian, while others accused her of getting lip injections, among several other things. Either way, the reality star seems like she's said her piece on the matter of her appearance in recent photos and has moved on.
Khloé Kardarshian has struggled with her appearance and body image for years and was even criticized for working out when she was pregnant with her daughter, True. Now that she's had her baby, Kardashian revealed that she's lost up to 50-60 pounds since giving birth. That said, fans commenting on Kardashian's recent photos seemingly made no connection with her recent weight loss admission.
This isn't the first time Khloé Kardashian has come under fire and, based on her family's history, it likely won't be the last. Most recently, many took issue with the Kardashian TP'ing her sister Kourtney's yard in the middle of a toilet paper shortage. She was accused of being tone deaf and inconsiderate considering current events.
Meanwhile, Keeping Up with the Kardashians Season 18 was cut short due to sheltering in place orders and Hollywood-wide production shutdowns taking effect in March. Still, the Kardashians and their crew figured out a way to keep filming episodes of their reality show while in quarantine.
Khloé Kardashian will return in new episodes of Keeping Up with the Kardashians at some point in September. Stay tuned to CinemaBlend for updates. For more on what to watch in the meantime, be sure to check out our 2020 summer TV premiere guide.
Your Daily Blend of Entertainment News
Your Daily Blend of Entertainment News
Thank you for signing up to CinemaBlend. You will receive a verification email shortly.
There was a problem. Please refresh the page and try again.