Looks Like Stargirl's Big Bad Is Going To Develop 'Feelings' For A Key Character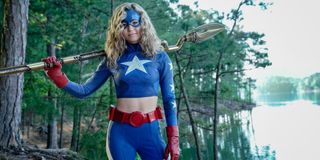 Stargirl Season 1 has set up the Injustice Society of America as the villains, and the third episode finally highlighted Icicle, the most dangerous and powerful member so far. The episode revealed that the icy villain had lost his wife eight years prior. In the present, the Big Bad, aka Jordan Mahkent, will be developing "feelings" for a major character, and it sounds like things will get a bit messy because of it.
The relationships on Stargirl are starting to get a lot more complicated now that the freshman series has established its primary characters. Brec Bassinger's Courtney Whitmore has already interacted with two of the Injustice Society's children without even realizing it. And, as it just so happens, Icicle is the head of the American Dream Corporation where Courtney's mother, Barbara, works. According to actor Neil Jackson, Icicle's heart is about to be warmed. Here's what he said about the potential romance with Amy Smart's Barbara:
Neil Jackson's comments to TV Guide don't clarify whether Icicle will act on his feelings for Barbara or if the two will have an affair. I personally hope they won't, but their working relationship could make things a bit awkward for Courtney and Luke Wilson's Pat, Barbara's husband. But while they've only had a few interactions, it's clear that Icicle is impressed with Barbara and the ideas she's presented to improve the American Dream Corporation.
Barbara also seems to have warmed up to him, but only time will tell how this storyline will play out. I can only imagine what would happen if Courtney and Pat find out that Barbara's unknowingly been working with the Big Bad all along. Whatever the case, it'll clearly "get in the way" of what Icicle has in store for Blue Valley, and I can't wait to see how it all plays out over the next few episodes.
As soon as Icicle was introduced on Stargirl, the villain wasted no time in wielding his power and killing the cautious councilman William Zarick -- another member of the ISA -- and his son, Joey. It was hard to watch and it showcased how far Icicle was willing to go to achieve whatever plans he had, though what exactly he has in store isn't clear just yet. Zarick's hesitation in seeing Stargirl as a viable threat seemingly stood in the way of that.
New episodes of Stargirl Season 1 air every Monday on DC Universe and then on Tuesday nights at 8:00 p.m. ET on The CW. For more on what to watch in the coming months, be sure to check out our 2020 summer TV premiere guide.
Your Daily Blend of Entertainment News
Thank you for signing up to CinemaBlend. You will receive a verification email shortly.
There was a problem. Please refresh the page and try again.