How Brooklyn Nine-Nine Is Changing Things Up For Season 8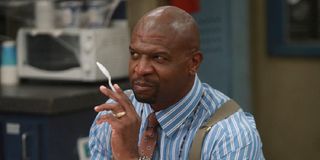 Brooklyn Nine-Nine wrapped Season 7 on a happy note, with the birth of Amy and Jake's baby boy. Unsurprisingly, given Jake's obsession with the film, the baby's name was a nod to Die Hard. The NBC sitcom, which has typically shown off the goofier side to the officers working at the 99th precinct, will be changing things up for Season 8 by tackling racism and police brutality.
As protestors take to the streets in support of the Black Lives Matter movement and calls to end police brutality, many have wondered whether the portrayal of cops on television will change moving forward. In an appearance on Late Night with Seth Meyers, Brooklyn Nine-Nine star Terry Crews was asked whether the current events would affect Season 8 of the show. Here's what Crews had to say:
It won't be the first time Brooklyn Nine-Nine has dealt with issues of racism. In the Season 4 episode "Moo Moo," Terry Crews' Lieutenant Terry Jeffords was racially profiled by a fellow police officer while in his own neighborhood. He was nearly arrested by the cop until Terry showed him his badge, but the point was that he was racially profiled because he was Black and was immediately thought to be suspicious.
There's no telling how Brooklyn Nine-Nine will handle current events in Season 8 or how it will impact the show's storylines, but it's good to know that the series won't ignore what's been going on. Terry Crews even cited current events as being a "wake-up call" for the NFL, which has previously been criticized for its lack of Black coaches and owners.
Offscreen, the sitcom's cast and showrunner Dan Goor donated $100,000 to the National Bail Fund Network, an organization dedicated to paying the bail and bonds of arrested protestors. Series star Stephanie Beatriz also donated an additional $11,000 and encouraged other actors who play cops on TV to do the same.
Meanwhile, the cop shows currently scheduled to air on TV are facing a variety of dilemmas. Paramount Networks' Cops seems to have disappeared completely from the line-up, even though the long-running series' 33rd season premiere was supposed to air on June 8. A&E also pulled new episodes of Live PD, while the Season 2 premiere of Bad Boys' TV spinoff LA's Finest was postponed in light of recent events.
All seven seasons of Brooklyn Nine-Nine are currently streaming on Hulu. For more on what to watch in the coming months, be sure to check out our 2020 summer TV premiere guide.
Your Daily Blend of Entertainment News
Your Daily Blend of Entertainment News
Thank you for signing up to CinemaBlend. You will receive a verification email shortly.
There was a problem. Please refresh the page and try again.