Norman Reedus: 8 Great Performances That Aren't Daryl From The Walking Dead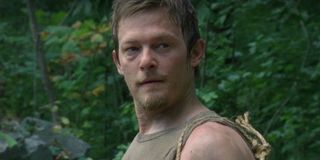 For the better part of a decade, Daryl Dixon has been one of the most popular characters on The Walking Dead, and on all of television, if I'm being completely honest. Pretty much from the start of Season 1 way back in 2010, Daryl has become a fixture of the AMC series as well as pop culture in general, but some non-diehard fans may not know about the man behind the character or some of his best roles. And, even though there are some not-so-great performances along the way, there are some Norman Reedus movies that prove he's more than capable of carrying his own weight.
From obscure films to big-budget action thrillers, Norman Reedus has been in a number of great film and television productions that have paired him up with legendary and visionary directors like John Carpenter, Guillermo del Toro, and even video game auteur Hideo Kojima. There are literally dozens of entries in Reedus' extensive filmography, so I thought I'd share just a few of his most important and scene-stealing performances. Who knows, maybe you'll find your new favorite movie below.
The Boondock Saints (Murphy MacManus)
Before The Walking Dead, Norman Reedus was mostly known for his turn as Murphy MacManus in the 1999 vigilante cult classic The Boondock Saints from writer-director Troy Duffy. Also starring Sean Patrick Flanery as Connor MacManus, this wild ride was all the rage back in the early 2000s, and you couldn't go anywhere without seeing a poster or old DVD copy displaying the two fed up and ruthless hitmen. Reedus' cool, calm, and collected demeanor, which fans of The Walking Dead would grow to love a decade later, is on full display here, even if his performance is overshadowed by the over-the-top nature of Willem Dafoe's FBI Special Agent Paul Smecker.
Triple 9 (Russell Welch)
The 2016 crooked cop/heist action thriller Triple 9 is one of those movies that got lost in the shuffle in a year that was completely stacked in that particular genre, despite having one of the best casts in a non-superhero movie in recent memory. And, with Hollywood mainstays like Casey Affleck, Chiwetele Ejiofor, Woody Harrelson, and Kate Winslet eating up a lot of the movie's scenes, it's not surprising to hear that some people forget Norman Reedus was even in the movie. Reedus only appears in the early goings of the movie as thief Russell Welch, and dies when a job goes bad. In his portrayal of a dying man, he's able to perfectly convey the fear of dying while never allowing the emotions of situation steal his focus. Russell's death would also prove to be a lightening rod for things to come later in this brutal action thriller.
Masters Of Horror: Cigarette Burns (Kirby Sweetman)
The Masters of Horror anthology series, which ran for two seasons on Showtime between 2005 and 2007, showcased more than two dozen terrifying original short stories from a collection of legendary filmmakers like Dario Argento, David Cronenberg, and Quentin Tarantino. One of the most important names to lend their talents to the series was John Carpenter, who directed Season 1 Episode 8, "Cigarette Burns." The episode follows rare-films dealer Kirby Sweeetman (Norman Reedus) as he hunts down the last print of a movie that allegedly drove its only audience to madness in a homicidal frenzy. Released five years before Reedus took on the role of Daryl Dixon, this oft-forgotten piece of television showcases the dynamic range and physicality that fans of The Walking Dead would come to know and love.
Blade II (Scud)
Before Norman Reedus became a household name and fixture of conventions around the world, he popped up in quite a few movies in the early 2000s. You can go ahead and add Guillermo del Toro's Blade II to list, which featured Reedus as Scud, a young weaponsmith who provides support for Wesley Snipes' Blade throughout much of the movie. And even though Reedus plays an annoying, unlikable, and ultimately untrustworthy character, the actor's commitment to role really drives the performance home and shows what he was capable of pulling off that early in his career.
Floating (Van)
Aside from appearing in music videos for artists like R.E.M., Radiohead, and Björk in the early '90s, Norman Reedus' acting debut came in the form of William Roth's 1997 coming of age drama Floating. The film saw the future star of The Walking Dead play Van, a teenager who is forced to take care of his father after losing his legs in a car accident. Despite this being his first feature film, Reedus gives a masterful performance that is told through fits of anger and physicality as well as the raw emotion that sits just behind his eyes.
Six Ways To Sunday (Harry)
Released in September 1997, the surreal crime drama Six Ways to Sunday was another showcase of the talent possessed by a young Norman Reedus. Portraying Harry, an 18-year-old with a borderline incestuous mother (Blondie's Debbie Harry) and a problem containing his own rage, Reedus waltzes through this shockingly violent yet humorous crime film which sees his character committing various crimes (including murder) all while slipping deeper and deeper into an unstable mental state. With a cast that also includes Adrien Brody, Clark Gregg, and Isaac Hayes, there's plenty to look for in this hidden gem.
Mimic (Jeremy)
Five years before Norman Reedus and Guillermo del Toro worked together on Blade II, the director gave the model-turned-actor a bit role in the 1997 science fiction horror film Mimic.Although Reedus had appeared in two other movies, in which he had larger roles, Mimic was the young actor's first appearance in a big-budget Hollywood release. He doesn't get much screen time in the bit role of Jermey, a character who discovers one of the film's Judas monsters, but it's easy to tell that bigger things would be coming for Reedus in the near future. In the one-minute scene where he explains what he found, Reedus has a command of the screen that is rare to see in such an inexperienced actor.
Death Stranding (Sam Porter Bridges)
Then there is Norman Reedus' appearance as Sam Porter Bridges in acclaimed video game director Hideo Kojima's, Death Stranding, a game that even people who have committed countless hours to it and have beaten it don't fully understand. In this open-world game, Sam is tasked with embarking on a journey across the wasteland that is the United States to deliver supplies and information to isolated outposts of society. Throughout the game, the player's actions are brought to life by the humor, sorrow, and anger exhibited by Reedus' character. Death Stranding also gave Reedus and Kojima the opportunity to create something after their first project, the failed Silent Hills, was abandoned around the time of Kojima's 2015 departure from the game's publisher, Konami.
There are still dozens of other Norman Reedus performances that have been lost to sands of time, but is anyone really missing out on Deuces Wild or The Boondock Saints II: All Saints Day? If there was something you think I missed on the list, make sure to let me know in the comments below.
Philip grew up in Louisiana (not New Orleans) before moving to St. Louis after graduating from Louisiana State University-Shreveport. When he's not writing about movies or television, Philip can be found being chased by his three kids, telling his dogs to stop yelling at the mailman, or yelling about professional wrestling to his wife. If the stars properly align, he will talk about For Love Of The Game being the best baseball movie of all time.
Your Daily Blend of Entertainment News
Thank you for signing up to CinemaBlend. You will receive a verification email shortly.
There was a problem. Please refresh the page and try again.