Could Hideo Kojima Be Teasing Death Stranding's Launch In 2019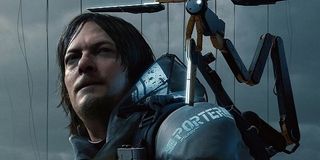 In typical fashion for Hideo Kojima, a cryptic message that recently ran in a Japanese gaming magazine makes it sound like his next big project, Death Stranding, might finally launch in 2019.
In the most recent issue of Famitsu (via Twinfinite) game director Hideo Kojima shares a short but sweet New Year's message with readers.
That's all it took to make folks go ga-ga with excitement, as it feels like we've been waiting on Kojima's big PlayStation 4 exclusive for about 37 years now. Since 2019 is actually the year of the pig and the whale isn't even part of anybody's zodiac, it's clear that this is a reference to Death Stranding. The game's title actually refers to when whales beach themselves and die, a scene depicted in the very first trailer for the game.
So when Kojima asks if this is the year of the whale, the obviously conclusion is that he's teasing a Death Stranding launch sometime in the next 12 months. Then again, this is Kojima we're talking about. The answer to his question could very well be him chuckling and shaking his head no. The dude thrives on teasers, hidden messages and playing with his audience, so it would make perfect (and totally unfortunate) sense if he's just amusing himself here.
Still, all signs point to Death Stranding launching in the not-too-distant future, so maybe this is more a message of hope than playful (and totally uncool) teasing. Each trailer for the game has looked more and more complete, moving from cinematic mind-screws to plenty of scenes of in-game footage. We still haven't seen much action, but Norman Reedus sure can walk across a lovely, rainy environment.
It's also worth noting that the clock is running out on current generation hardware. We've still likely got a couple years to enjoy the PlayStation 4 but, if Death Stranding doesn't come out in 2019, its window to launch before the arrival of Sony's next console likely won't be all that wide. Grouped with the likes of Ghost of Tsushima and The Last of Us: Part II, Kojima's next game is set to be one of the final hoorah's for Sony's current home console.
More than anything, I'm just curious what the next non-Metal Gear game looks like from Kojima. No longer tethered to Konami or his long-running series, it'll be interesting to see what themes the director chooses to focus on in Death Stranding. The same goes for mechanics. Kojima has stated that Death Stranding will be a pretty unique game, so I'm looking forward to seeing how many risks he was willing to take on this first solo outing.
Hopefully, this latest tease means that we don't have much longer to wait in order to finally have answers to the mountain of questions Death Stranding already has us asking.
Your Daily Blend of Entertainment News
Staff Writer for CinemaBlend.