Why Kaitlyn Dever Never Contacted Unbelievable's Real-Life Marie Before Filming Netflix Show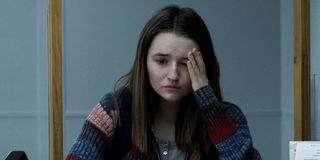 When actors play real-life people in fiction, it might present some challenges, and this may be especially true when the subject matter is sensitive in nature. Such was the case with Netflix's Unbelievable. Kaitlyn Dever was cast to play Marie, a teen who was charged with lying about being raped. Dever recently explained why she never contacted the real-life Marie before filming the Netflix show.
When Unbelievable debuted on Netflix last year, it received plenty of critical acclaim. The miniseries, which was based on a 2015 news article by T. Christian Miller and Ken Armstrong, depicted the harrowing case of Marie's rape. When she's charged with lying about her rape, two detectives follow leads to uncover the truth of what really happened. Speaking with Variety on The Big Ticket podcast, Kaitlyn Dever revealed why she never touched base with the real-life Marie. Here's how Dever put it:
Revisiting sexual assault experiences can definitely be difficult, so it makes sense why Kaitlyn Dever didn't contact the real-life Marie. It's also important that Dever converse with the show's creators about whether or not to reach out beforehand instead of ignoring it completely. The Unbelievable actress went on to say that the series creators "only had respect and passion" for the material and Marie's experiences.
Kaitlyn Dever herself was incredibly "moved" by Marie's story and courage after reading the script for the Netflix show. The series was so impactful that the real-life Marie emailed Unbelievable producer Ken Armstrong. Dever was actually able to read the email and was emotionally affected by Marie's words regarding the miniseries. In Dever's words:
Honestly, that's great to hear. It's not always the case that the real-life subjects of TV shows or movies are thrilled with the way their stories are portrayed on screen. So to hear that Marie felt "a bit of closure" after watching Unbelievable must have been immensely satisfying for the writers, creators, and cast.
Unbelievable is currently streaming on Netflix. For more on what to watch in the coming months, be sure to check out our 2020 summer TV premiere guide.
Your Daily Blend of Entertainment News
Thank you for signing up to CinemaBlend. You will receive a verification email shortly.
There was a problem. Please refresh the page and try again.