How The 100 Season 7 Is Doing In The Ratings Without Bellamy Blake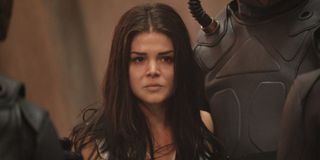 (Image credit: The CW)
The 100 is six episodes into its seventh and final season, but the show definitely didn't go back to business as usual following Season 6. Second-billed star Bob Morley has been almost entirely absent so far as Bellamy Blake, and his brief time on screen has left far more questions than answers. The other characters have kept busy, with tensions rising on Sanctum and characters journeying to different planets while Bellamy is MIA. So, what do the ratings look like in this season without Bellamy? Not too great, it happens.
With the episode that aired on June 24, The 100 attracted a Live+Same day audience of only 590,000 viewers in total and scored a rating of 0.1 in the key 18-49 age demographic. TVLine reports that the 590,000 marks the third smallest audience in The 100 history, and the 0.1 (a dip of 0.1 from the previous week) is a series low. The 100 wasn't the least-viewed network broadcast of the night, but it ranks above only Bulletproof, which airs in The CW's slot directly after The 100 on Wednesday nights.
Admittedly, shows airing on The CW shouldn't be expected to rival or match shows on the big four networks of ABC, CBS, NBC, and Fox, but these are not good numbers for The 100 in its final season, and it's difficult not to wonder if Bellamy's absence is at least part of what has led to the drops.
Bellamy being kidnapped early in Season 7 and then seemingly (but not definitively) killed off after briefly returning is actually due to Bob Morley requesting time off rather than The 100 deciding to ditch Bellamy after six years as the male lead, so it's really nobody's fault that Bellamy isn't getting his normal screen time. And we also can't definitively say that the Bellamy shortage is the cause of the drops in ratings and viewership.
That said, this is The 100's final season, so now should be a prime time to tune in and see how The CW wraps up the story after seven years, three apocalypse events, many big deaths, and more violence than I for one ever expected to air on a CW series at 8 p.m. ET. The summer TV season is also generally short on scripted options, with The 100 providing an opportunity for something other than game shows and reruns.
So, can The 100 turn the ratings around and start making show history for good reasons? Assuming Bellamy wasn't really killed off, he'll be back and possibly bring some viewers with him. The upcoming backdoor pilot for the potential spinoff might amp things up and/or let the show get back to what viewers may have expected after how Season 6 ended. There are still ten episodes left, after all!
All of this said, it's worth noting that the ratings arguably don't matter all that much for The 100 at this point, as diehard fans who are still tuning in live each week don't have to worry about a cancellation. For better or worse, the series will end with the Season 7 finale, and the spinoff itself hasn't been confirmed. See what happens next on The 100 with new episodes airing Wednesdays at 8 p.m. ET on The CW. For more of what you can watch this summer, check out our 2020 TV premiere schedule.
Resident of One Chicago, Bachelor Nation, and Cleveland. Has opinions about crossovers, Star Wars, and superheroes. Will not time travel.
Your Daily Blend of Entertainment News
Thank you for signing up to CinemaBlend. You will receive a verification email shortly.
There was a problem. Please refresh the page and try again.