Why Ming-Na Wen Nearly Quit Action Roles Years Before Marvel's Agents Of S.H.I.E.L.D.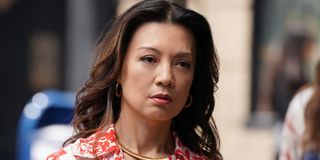 (Image credit: Marvel)
Melinda May is the go-to hero of Agents of S.H.I.E.L.D. when the good guys need some fisticuffs to save the day, and Ming-Na Wen has delivered some of the best action performances on the small screen in recent memory. May might not have always been open to sharing her feelings (back before Season 7 when she lost her feelings, anyway) but she never hesitated to save the day even if she had to do it solo. As it turns out, however, Wen nearly quit action roles years before she became the Cavalry on Agents of S.H.I.E.L.D.
Speaking with Looper, Ming-Na Wen shared why she considered quitting action roles way back in the mid-1990s:
Street Fighter debuted in 1994 and was pretty widely panned, with Ming-Na Wen playing Chun-Li in a cast also featuring Jean-Claude Van Damme (who was allegedly "coked out of his mind" while filming the movie) and Kylie Minogue, among others. It definitely was an action-heavy role, and apparently not what Wen was looking for in her pursuit of becoming a serious actor.
Ming-Na Wen stayed true to staying away from major action roles for many years, unless her voice work as Disney's Mulan in the 1998 animated movie of the same name counts. In fact, her longest-running TV role prior to Agents of S.H.I.E.L.D. was as. Dr. Jing-Mei Chen on NBC's ER, and Chen certainly wasn't getting into bloody brawls on a weekly basis.
Fortunately for S.H.I.E.L.D. fans, her decision to never do action again after Street Fighter didn't stop her from taking the role of Melinda May in the MCU. That's not to say that Ming-Na Wen's only contributions to S.H.I.E.L.D. involve her action sequences, however. The character may have been stoic and reluctant to open up for a lot of her time on the show, but she has also had some deeply heartfelt plot lines, ranging from her relationship with Andrew/Lash to the loss of Coulson, that required a lot more of Wen than the ability to throw a punch.
Still, Ming-Na Wen really can throw a punch! Look no further than the May vs. May/Agent 33 fight in Agents of S.H.I.E.L.D. Season 2, which also happens to be Wen's favorite fight sequence:
May is currently at the center of a mystery of Agents of S.H.I.E.L.D. in its final season, although certainly not the only mystery. S.H.I.E.L.D. has a lot of questions to answer, including about May's loss of emotion and whether she will ever get her feelings back. She and the other heroes are faced with saving the timeline from the Chronicoms to prevent them from taking Earth as their new home planet, and their mission is bound to only get more complicated as they move through history.
You can find Ming-Na Wen in new episodes of Agents of S.H.I.E.L.D., airing Wednesdays at 10 p.m. ET on ABC. The actress hasn't ruled out returning to the MCU after S.H.I.E.L.D. ends, so more Melinda May could be on the way in the long run! She also had a memorable role in The Mandalorian Season 1, although sadly one she probably won't be called upon to reprise. For more viewing options, check out our 2020 summer TV premiere schedule.
Resident of One Chicago, Bachelor Nation, and Cleveland. Has opinions about crossovers, Star Wars, and superheroes. Will not time travel.
Your Daily Blend of Entertainment News
Thank you for signing up to CinemaBlend. You will receive a verification email shortly.
There was a problem. Please refresh the page and try again.