Why Michael Jordan's Wife And Ex-Wife Don't Appear In The Last Dance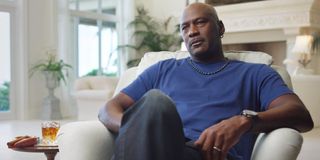 ESPN's The Last Dance garnered plenty of viewers during its broadcast run, ranging from diehard sports fans to casual celebrity viewers. What arguably helped make the docuseries so compelling was its far-reaching coverage of Michael Jordan's professional and personal life. However, one element that was left largely unexplored was his domestic life with ex-wife Juanita Vanoy and current wife Yvette Prieto. Now, producer Mike Tollin has shed some light on why they ultimately were not interviewed for the documentary.
Mike Tollin, a veteran producer of TV and film, explained that he and director Jason Hehir had a list of topics they wanted to cover in The Last Dance. However, exploring Michael Jordan's relationships with his spouses was not something that interested the two of them:
Mike Tollin was very clear when sharing his thoughts with ESPN's Howard Bryant (opens in new tab) and, based on some of his later comments, it sounds like he and Jason Hehir had a very specific vision in mind for The Last Dance. And it would seem that including the loves in Jordan's life just didn't make sense to them. Nevertheless, Juanita Vanoy does still appear in the documentary through file footage and photos and is also indirectly referenced at times.
Because Michael Jordan didn't marry Yvette Prieto until years after the events of The Last Dance, it does make sense that the filmmakers wouldn't see the need in interviewing her. Still, it honestly would have been interesting to hear from Juanita Vanoy, as she was with Jordan during the pinnacle of his fame and likely could've provided a different perspective on things.
Michael Jordan and Vanoy married back in 1989 and had three children – Jeffrey, Marcus and Jasmine – together. The two would eventually divorce in 2006, with Vanoy receiving a $168 million settlement, the largest celebrity divorce settlement on record at that time. In 2013, Jordan would marry Prietto and, in 2014, she gave birth to identical twin daughters, Victoria and Ysabel.
Despite neither of his significant others appearing in The Last Dance, other members of Michael Jordan's family do make appearances, including his mother, siblings and his three oldest children.
Aside from the people in Jordan's private life, the documentary featured plenty of other notable figures from his past, including former teammates like Steve Kerr and Horace Grant. Although, some were more pleased with their appearances than others.
The Last Dance may have strayed away from the details of Jordan's marriages but, based on what audiences got, it certainly didn't take away from the experience. If you've yet to see the docuseries for yourself, you can stream it on ESPN.com or wait for it to hit Netflix next month.
Covering superheroes, sci-fi, comedy, and almost anything else in film and TV. I eat more pizza than the Teenage Mutant Ninja Turtles.
Your Daily Blend of Entertainment News
Thank you for signing up to CinemaBlend. You will receive a verification email shortly.
There was a problem. Please refresh the page and try again.