Matt Bomer Explains Why It's Been So Important To Tell The Story Of A Gay Superhero In Doom Patrol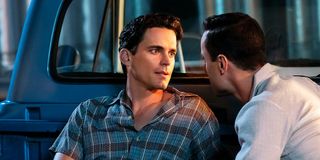 Doom Patrol is quite a unique superhero show. The DC Universe (and now also HBO Max) series carved out its own space amongst the plethora of comic book adaptations on TV right now and sets itself apart by adhering to its own chaotic list of rules. There are no capes or stereotypical heroic moments, just misfit characters struggling to come to terms with who they are and where they fit in a world that doesn't seem to want them, such as Matt Bomer's Larry Trainor.
Larry, whose comic moniker "Negative Man" doesn't come up that much on the TV show, is a former pilot and closeted gay man who was in an accident that left him permanently scarred while sharing a body with a seemingly immortal and sentient being. Bomer reveals why it's been so important to tell the story of a gay superhero in Doom Patrol. Speaking with Digital Spy, Matt Bomer explains why playing Larry is so pertinent, saying:
In Doom Patrol Season 1's flashbacks, Larry was a married man seeing a fellow soldier in secret, refusing to come out publicly for fear that it would ruin his entire career and family life. Season 2 has been about addressing the hurt and healing from the pain of the past.
Larry doesn't really consider himself a hero. He's spent the majority of his life hiding his sexuality and alienating people, including his wife and sons. A big part of Larry's journey has been in finding the courage to accept himself and letting go of the internal guilt and shame, which in turn allows him to be a better friend and partner to his fellow teammates.
Matt Bomer goes on to add that Larry is perhaps "one of the most three-dimensional, fully realized gay characters" he's ever played on screen. The White Collar vet ultimately believes that Doom Patrol is really all about the "human condition" and it's evident in the way the characters get to work through all of their traumas and issues, while also strengthening their bonds to each other.
Doom Patrol Season 2 has thus far carried on with the tradition of showcasing elements of Larry's backstory in flashbacks to the 1950s, while allowing him time to work through the hurt and self-hatred in the present. At least Larry has seemingly stopped fighting the negative spirit inside him and has come to terms with the fact that they're connected perhaps forever. Larry slow journey learning to love himself and his story of pain, joy, and acceptance is a big part of why playing this character on Doom Patrol is so important for Matt Bomer.
New episodes of Doom Patrol Season 2 drop every Thursday on HBO Max and DC Universe. For more on what to watch in the coming months, be sure to check out our 2020 summer TV premiere guide.
Your Daily Blend of Entertainment News