How Stranger Things' David Harbour Approaches Stunt Work On The Netflix Series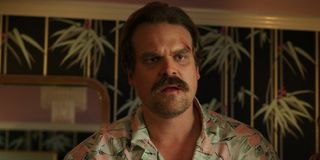 Stranger Things includes a lot of horror elements, but it also has a fair amount of action sequences that wouldn't work without a great stunt team. That's where stunt coordinator Hiro Koda comes in. As it turns out, every fight scene in Stranger Things is set up to reflect each character's own style. Recently, Koda revealed David Harbour's approach to stunt work on the Netflix series and how it ultimately helps Koda to adjust to his strengths.
Hiro Koda had nothing but great things to say about working with the Stranger Things cast on stunt work. Season 3 of the Netflix series was chock full of them, too, so Koda had his work cut out for him. Getting to work with David Harbour on Hopper's stunts, Koda described the actor as being "super agile."
The stunt coordinator goes on to add that every actor has a different range when it comes to stunts, and that helps him choreograph something that makes sense for their character. David Harbour is no different. The actor has his own process when it comes to approaching stunt work on Stranger Things. Here's what Hiro Koda told Metro.co.uk about it:
Hiro Koda went on to say that David Harbour learns his stunt choreography "super quick" and that he is incredibly safe when it comes to the fight scenes, which is good to hear. There are too many stories about stunts gone wrong and people getting hurt while on set, so safety is always key.
Following Season 3 of Stranger Things, the biggest buzz surrounding the show was the question of whether Hopper was alive or dead. The Season 4 teaser confirmed that he was actually alive, though Hiro Koda knew this in advance and "got a good kick" out of reading all the articles and theories discussing Hopper's fate.
Hopper might be alive, but it looks like he's working in a chain gang in Russia. How he'll make it back to Hawkins is a mystery for now. However, David Harbour has teased that Stranger Things Season 4 will have an Indiana Jones vibe while also exploring more of Hopper's backstory.
The first three seasons of Stranger Things are currently available to stream on Netflix. Season 4 was filming when production was shut down in March, but stay tuned to CinemaBlend for updates. In the meantime, be sure to check out our 2020 Netflix premiere date schedule.
Your Daily Blend of Entertainment News