Stranger Things' David Harbour Compares Season 4 To Indiana Jones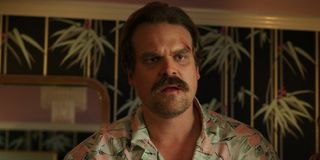 For months after Stranger Things Season 3 hit Netflix, viewers speculated about who the mysterious "American" was, the figure referenced in the finale's post-credits scene. An official teaser for Season 4 revealed that David Harbour's Hopper was indeed this mysterious person, and that he somehow survived death after sacrificing himself. Plot details for Season 4 have been relatively scarce, but Harbour has intrigued fans by comparing Stranger Things Season 4 to Indiana Jones. What does that mean, though?
Stranger Things Season 4 had only just begun filming when Hollywood-wide shutdowns suspended filming. And, while the next season won't be premiering on Netflix anytime soon, David Harbour and The Duffer Brothers recently chatted about the show. While the creators talked about the brainstorming sessions they had, Harbour was a bit more forthcoming regarding his character's arc and what fans could expect from Season 4. (Harbour being too forthcoming? No way!) Here's what he told Deadline about the vibe of next season:
It sounds like fans should whip out their Indiana Jones lassos and hats for the occasion. Of course, "Indiana Jones-type action" is still a vague description, but one that's also rather exciting, given the Netflix series' Spielberg-ian tone. I can only surmise that Hopper might be trying to evade treasure-hungry villains who are after some artifact, or else Hopper will be fighting through underground booby traps. It's hard to tell, so I'm letting my imagination run wild. How face-melting would the Upside Down's Ark of the Covenant be?
The Stranger Things Season 4 teaser may have confirmed that Hopper is alive, but he's still in a bit of a bind. In fact, he's no longer even in Hawkins, but rather thousands of miles away in Russia, working in a chain gang. Hopper will apparently be "almost resurrected." In the recent interview, Harbour even likened his character's resurrection to that of Gandalf the White from the Lord of the Rings trilogy, if Indiana Jones wasn't quite fantastical enough. Make of that what you will.
I'll admit it's all still a bit unclear and I have no clue how his resurrection connects with the Indiana Jones mention. (Here's hoping Season 4 isn't about about Nazis and crystal skulls, though.) In any case, David Harbour did indicate that fans will be seeing Hopper in a different light. In his words:
Could Season 4 finally explain why Hopper puts food in a box? It's definitely possible. Either way, David Harbour seems excited for viewers to get to see this new side of Hopper that may or may not start rocking a whip. So long as we get some answers, then I'm all for it.
Stranger Things Season 4 does not yet have a premiere date. Stay tuned to CinemaBlend for updates. In the meantime, be sure to check out our 2020 summer TV premiere guide for more on what to watch.
Your Daily Blend of Entertainment News