The Boys' Star Shares Hilarious Story About Having To Make A Dog Hump A Stuffed Pig For Season 2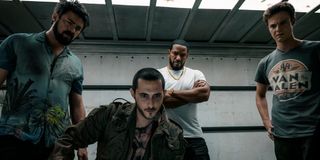 There aren't a lot of superhero-related TV shows on right now that are as wild and bloody as The Boys. However, despite some of the Amazon series' gory and disturbing content, there's a lot of dark humor to be found as well. In this case, the hilarity comes from a behind-the-scenes story where series star Dennis Quaid revealed how he had to make a dog hump a stuffed pig for Season 2. Yes, you read that right.
Season 2 will be adding some new characters to the show, including Aya Cash's Stormfront, the latest member of The Seven and Homelander's personal antagonist. Also joining The Boys next season is Butcher's dog, Terror. The dog will be popping in to hump a stuffed pig in Season 2. Dennis Quaid got up close and personal with Terror, who has been trained to hump things on command. True to The Boys, the attack word is "boner." Here's what he told EW about the experience:
That's an incredibly awkward and hilarious story. I didn't think this show could continue pushing the envelope, but here we are. Dennis Quaid described Terror as "being a particularly horny dog" in the comic book series, so of course it's something that the writers included in the show. I can't even begin to imagine what the actor's face looked like in that moment, or even why the trainers left him there alone with Terror. That said, I'm hoping that Quaid shouting "boner" more than once isn't edited out. At the very least, it would make a great addition to the blooper reel.
Suffice it to say that Dennis Quaid won't be spending the majority of his time in The Boys Season 2 dog-sitting Terror while he humps the stuffed pig. Quaid's Hughie will be busy having a "very strained" relationship with Karl Urban's Butcher. The two were on the same page for the most part in Season 1. However, that doesn't seem to be the case in Season 2. Here's how Quaid put it:
I, for one, hope that Hughie doesn't mess things up with Terror the dog and make his relationship with Butcher even more strained. Either way, I'd wager that Hughie and Terror will develop a very loving relationship in Season 2 despite all the humping.
The first three episodes of The Boys Season 2 will premiere on September 4 on Amazon Prime, with the remaining five episodes dropping weekly thereafter. For more on what to watch in the coming months, be sure to check out our 2020 fall TV premiere schedule.
Your Daily Blend of Entertainment News
Thank you for signing up to CinemaBlend. You will receive a verification email shortly.
There was a problem. Please refresh the page and try again.