The Boys' Season 2 'Hero' Stormfront Is Already Pissing Homelander Off In New Video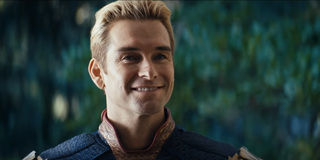 Look, if you watched Season 1 of The Boys on Amazon, you know one thing for sure: Homelander is a completely evil maniac. Just in the first season, we saw the leader of The Seven and supposed "hero" commit a number of serious crimes and perpetrate atrocities on people both innocent and not so innocent. But, most of the world still sees him and Vought's band of drugged up, not good very do-gooders as people who are on the right side of justice every time. Season 2 will see Homelander have to deal with a new team member, Stormfront, and it seems like their introduction has already pissed the madman off.
When you're as powerful as Homelander is, something tells me that it's quite difficult to not get your way. So, this video, which was posted to The Boys official Twitter feed, seems to indicate that Homelander is not going to be happy about having a new member of The Seven thrust upon him, just when he thought he finally had the group totally under his control. Take a look, so we can discuss potential implications, below!
There seem to be quite a few things going on in here, and possibly some stuff I'm not totally getting, but the main point appears to be that Stormfront is excited about being called up from Portland to be in The Seven, while Homelander is less than pleased. As a slight side note; does Homelander not look the most like a lunatic trying really hard to hold it together in public, or what? I really thought he was going to lose his absolute cool for a minute, but I should know that he's well practiced enough at pretending to be a decent human that such a thing wouldn't happen.
OK, let's break this video down a bit. We already knew that Stormfront was going to become a member of The Seven in Season 2, but apparently that news did not trickle down to either Homelander or Queen Maeve, as Stormfront was sent to meet them on the set of a video shoot and had to break it to them.
First of all, Stormfront clearly wasn't supposed to be filming there, at all. And, she makes a point at the beginning of the video of disparaging her new colleagues because they're not filming on an actual Army base with real soldiers, but on a set with actors, some of whom have apparently appeared on Criminal Minds: Beyond Borders.
Secondly, I know you noticed the way Stormfront's video kept going out during her recording, right? It happened right when Homelander walked up to her, and three additional times during her broadcast. It doesn't seem like a simple coincidence, either. What I can't figure out, though, is whether or not Homelander (or someone) is doing that on purpose, or if he's actually so irritated by the behind-the-scenes filming and revelation that he's got someone new to deal with that he's actually doing it without realizing it.
While he went through vigorous training from the time he was a small child, much to his (and, actually, everyone else's) detriment, to figure out and learn to use all of his powers, he did go on to have some very strong negative feelings about the way he was treated as a child. So, I can totally see him either not telling the folks at Vought about some of what he can do, or simply not even having developed all his gifts, just to spite them.
Speaking about those powers-that-be at Vought, it sounds like Mr. Edgar, whom we saw briefly toward the end of Season 1 and who founded Vought, is the one who chose Stormfront for the team and delivered the news to her, personally. Which is a big deal, because the man was hardly known to mix in the superhero business directly, having preferred to leave that to his VP, Madelyn Stillwell.
Of course, we know what happened to her, so maybe Edgar will be stepping into her position until he can find a replacement. Or, maybe...just maybe, he has a suspicion that Homelander is the one who murdered the shit out of her (and probably her baby and the nanny), and Stormfront is being sent in to gather intel for him, and possibly to try and take Homelander down. I'm sure Billy, Hughie and the rest of The Boys wouldn't mind that. At any rate, Season 2 should be a lot of fun.
We can see how the situation between Homelander and Stormfront (and The Seven and The Boys) turns out when The Boys returns for Season 2 on September 4 on Amazon. To see what else you can watch right now, check out our guide to summer TV!
Bachelor Nation, Gilmore Girl; will Vulcan nerve pinch pretty much anyone if prompted with cheese...Yes, even Jamie Fraser.
Your Daily Blend of Entertainment News
Thank you for signing up to CinemaBlend. You will receive a verification email shortly.
There was a problem. Please refresh the page and try again.