The Boys Star Says Season 2 Will Be Better Than Season 1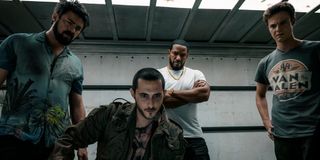 The Boys Season 1 was filled with a number of twists and turns. Just when we thought we had things figured out, the story took a hard left into new territory, leaving viewers' mouths agape at the each cliffhanger. With such a strong first season, the Amazon series has a lot to live up to in Season 2. To assuage any worries about the upcoming season, however, The Boys star Jack Quaid is confident that Season 2 will be better than Season 1. Here's what he had to say:
That's a relief! Jack Quaid has been consistent when hyping up The Boys Season 2, which will be even "wilder" than Season 1. That sounds about right for a show that included a dolphin being hit by a truck in the midst of a rescue mission in Season 1. It comes as no surprise, then, that Season 2 will work to include even more of The Boys' signature brand of WTF moments.
The Boys Season 1, which surpassed Amazon's expectations, saw Jack Quaid's Hughie and his friends attempt to infiltrate and take down The Seven, an elite team of corrupt superheroes backed by corporate funding, following the death of Hughie's girlfriend.
Naturally, things didn't always go according to plan and the Season 1 finale ended with Hughie on the run and Karl Urban's Butcher, who is a "hell of a lot of fun to play," coming face-to-face with someone he believed to be dead. However, now that Hughie is on the run, where can fans expect to find him in Season 2? Speaking with NME, Jack Quaid revealed what Hughie will be going through following the events of Season 1. In his words:
Personally, I hope Hughie doesn't miss Annie for too long and that they're reunited in Season 2, which dropped its first teaser trailer in December. They have a lot to sort through now that Starlight knows the truth about him and his plans, but I imagine their paths will cross again at some point.
The Boys Season 1 is currently available to stream on Amazon. Season 2 is on the way, but Amazon has not scheduled a release date yet. Stay tuned to CinemaBlend for more information. In the meantime, be sure to check out our 2020 midseason schedule for updated premiere dates and times.
Your Daily Blend of Entertainment News
Thank you for signing up to CinemaBlend. You will receive a verification email shortly.
There was a problem. Please refresh the page and try again.