The Boys Is Hyping Season 2 With Homelander's Fascination With Fluids, And I'm Kinda Weirded Out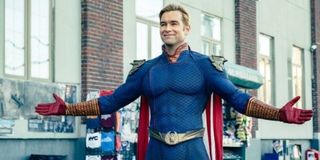 The Boys Season 2 is only a couple of months away, so Amazon is really ramping up the promotion for the series. One of the ways the series is hyping up Season 2 is with Homelander's fascination with fluids. The villainous corporate puppet is nothing short of terrifying, so you can imagine how weirded out I am with this specific brand of marketing.
The folks behind The Boys' official social media accounts don't shy away from posting creepy stuff and, given that the entirety of the show's content is rather dark, it's not all that surprising. As an example, the show's Twitter account made a Mother's Day post that was all kinds of fucked up. Going a step further, The Boys' most recent promo includes Homelander standing on a ledge. One of his hands is in a fist at his side and his head is thrown back towards the sky while he urinates over the side of the building. The caption really says it all. Check out the tweet below:
That image sure is something, isn't it? It highlights Homelander's disgusting nature. He's a character who believes he can do and say whatever he wants at all times, so peeing over the side of a building is right up his alley and very un-superhero like of him. Granted, I doubt the cameras caught that on tape. Can't have Vought ruining their beloved asset's reputation and all that.
I'm not sure that any other show could get away with such an outrageous promo, but it's The Boys so that dark humor really works for its brand. While, uh, some fluid leaves Homelander's body, however, he's seen slurping down another kind of fluid in yet another promo. This time it's a gif and, yup, I'm still grossed out. Check out Homelander being nasty in the tweet below:
You saw that right. Homelander is drinking milk out of a baby bottle, and it's quite indicative of who he is as a person. He acts like a bratty, spoiled child but is as terrifying of a man as they come. He is not to be messed with, and these promos pretty much define his character. In that vein, I tip my hat to the marketing team for making the lead-up to The Boys Season 2 as memorable and disgusting as possible.
The Boys Season 1 had Homelander in complete control of the Seven, the elite superhero team created by Vought. However, Season 2 will test his resolve and leadership when Stormfront joins the team. Suffice it to say she's rather unimpressed with Homelander in general, and she will be pissing him off when the show returns next season. I just hope Homelander doesn't decide that peeing on her is the right call.
The first three episodes of The Boys Season 2 will premiere on September 4. The remaining five episodes will drop weekly on Amazon Prime Video. For more on what to watch in the meantime, be sure to check out our 2020 summer TV premiere guide.
Your Daily Blend of Entertainment News