Dr. Fauci Reacts To Brad Pitt's Saturday Night Live Impersonation Getting An Emmy Nomination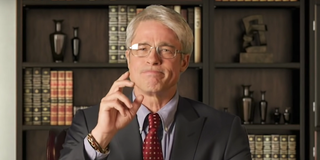 The 2020 Emmy Award nominations have been announced, and there were a lot of great and talented people who made the list. One of the more surprising nominations went to Brad Pitt, who received a nod in the Guest Actor in a Comedy Series category for his impersonation of Dr. Anthony Fauci for a remote Saturday Night Live cold open. Of course, Dr. Fauci had some thoughts on the nomination and reacted to Pitt's SNL portrayal getting some awards attention.
Dr. Fauci has become a household name in recent months, for better or worse, since the director of the National Institute of Allergy and Infectious Diseases has been the leading expert on the COVID-19 pandemic. Tackling infectious diseases has always been Fauci's job, but the pandemic launched him into the public eye following his numerous press briefings in April. Naturally, this led to SNL adding him into cold open later that month, with Brad Pitt surprising audiences in the role. How does Dr. Fauci feel about Pitt's three-minute portrayal getting an awards nomination? Here's what he told AP:
I'm really glad that Dr. Fauci doesn't let Brad Pitt's Emmy nomination go to his head and that he's "too busy paying attention" to his job first and foremost. Can you imagine if Dr. Fauci and his team of scientists just gave up their work to bask in the limelight of this Emmy nomination? We'd probably be screwed, but I'm no expert.
That said, I can only imagine that the Emmy recognition does make Dr. Fauci feel just a little good inside, though it's not directly for him. Brad Pitt's impression fulfilled a personal dream for the health expert, who has always wanted Pitt to play him. (I mean, who doesn't?) When Fauci originally caught the performance, he called Pitt a "classy guy" for taking the time to thank all healthcare workers at the end of the cold open.
Brad Pitt wasn't the only actor to be nominated for his guest spot on Saturday Night Live, either. Adam Driver landed a nomination for hosting the sketch show in January. Meanwhile, Eddie Murphy also nabbed a nomination for hosting the NBC series in December 2019, which made it his first Emmy nomination in 21 years; it was also the first nomination for his work on SNL since his days as a cast member in 1984.
Will Brad Pitt's limited time as Dr. Fauci be enough for him to win? For now, we'll just have to wait for the 2020 Primetime Emmy Awards, which are scheduled to air on Sunday, September 20 at 8:00 p.m. ET on ABC. In the meantime, be sure to check out our 2020 fall TV premiere guide.
Your Daily Blend of Entertainment News
Your Daily Blend of Entertainment News
Thank you for signing up to CinemaBlend. You will receive a verification email shortly.
There was a problem. Please refresh the page and try again.