The Steve Harvey Show And 4 Other Black-Led UPN And WB Shows We Hope End Up On Netflix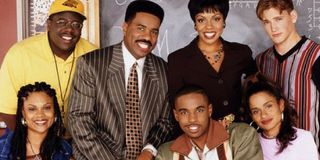 Oh, man. I love black sitcoms from the '90s and early 2000s. There's just something about them that really makes me nostalgic for my childhood. Sure, some people had Friends growing up, but I had shows like Sister, Sister, and Girlfriends, plus lots of other shows on UPN and the WB where black sitcoms thrived in that era. And with word that Netflix is actually going to be putting a lot of my favorite black sitcoms on their streaming service, you better believe that I'm pumped. But wait a minute, after taking a look at some of the shows coming to Netflix, I just have one question: Where's The Steve Harvey Show?
Actually, I have a few other shows that I'm wondering why they aren't on this list as well. Because sure, I love Moesha, I love The Parkers, and I love Sister, Sister. But there were a whole lot of other black-led shows from the '90s and 2000s that I love that don't seem to get much love today. Hell, not even just black-led. What about Nick Freno: Substitute Teacher? I never hear anybody talking about that show anymore. Anyway, here are five black-led shows I want to see brought to Netflix. How many of these shows do you remember?
The Steve Harvey Show - WB (1996-2002)
It's kind of crazy to think that the current host of Family Feud also had a hilarious sitcom in the late '90s and early 2000s on the WB. Co-starring Cedric the Entertainer, The Steve Harvey Show was kind of like Hangin' With Mr. Cooper, but instead of a basketball player who becomes a gym teacher, it's about a former soul singer who becomes a music teacher. It's also a lot more focused on the school aspect than Hangin' With Mr. Cooper was, and in my opinion, it was also much funnier.
Besides being a great time capsule, I'd love to see this on Netflix since I think a whole new audience of Family Feud fans could finally see Steve Harvey's sitcom beginnings. If Netflix just has this and then get the rights to The Original Kings of Comedy, then you could have yourself a nice little Steve Harvey marathon.
The Hughleys – UPN (2000-2002)
Speaking of The Original Kings of Comedy, another one of the comedians in that movie, which also starred Cedric the Entertainer and Bernie Mac (whose show is actually on Hulu) was D.L. Hughley. The Hughleys actually had its start on ABC in 1998 before it moved to UPN to finish its run. The show has a sort of similar premise as The Jeffersons as D.L. Hughley plays a vending machine salesman who moves his family out of an urban area to the suburbs. So he's movin' on up, so to speak.
What I find interesting though is that a show like The Hughleys has kind of fallen into obscurity, when its race-based comedy is more aligned with a show like Black-ish than The Jeffersons. It's kind of like that in-between show, and it would be cool to see it on Netflix to kind of see the midpoint between The Jeffersons and Black-ish.
In the House – UPN (1996-1999)
Remember when LL Cool J used to act? You still catch him here and there, but he used to be everywhere. And one place I remember seeing him the most was on my television screen for his show, In the House, as Marion Hill, a former football player who had to sublet some of his place because of financial troubles. Much like The Hughleys, In the House started off on another network (NBC), but found its eventual home on UPN.
I can truthfully say that I never found In the House funny. But I did find it comforting. I don't know why, but In the House is just one of those shows where the chemistry with the characters just worked, and LL Cool J will forever be charming (which is why I guess Ladies Love Cool James). Plus, a lot of people would probably find the show on Netflix since Fresh Prince of Bel Air's Alfonso Ribeiro became a cast member in Season 3 as Dr. Maxwell Stanton. It was a fun, if not funny show, and I'd love to see it again.
The Jamie Foxx Show – WB (1996-2001)
Like whoa, how is The Jamie Foxx show not more popular today now that Jamie Foxx (Academy Award-winning Jamie Foxx) is one of the biggest stars on the planet? The show centered around Jamie (who plays a character also named Jamie), who's trying to make it out in LA, but has to take on a job in his aunt and uncle's (Ellia English and Garrett Morris, respectively) hotel to supplement his income. While there, he mostly flirts with the front desk clerk, Frencesca (but you can call her "Fancy") played by Garcelle Beauvais, and cracks on the accountant, Braxton, played by Christopher B. Duncan. It's a paper thin plot, but man, did I laugh with this show.
Other than just being a great way to see Jamie Foxx in his early career on his own outside of In Living Color, The Jamie Foxx show deserves to be recognized, and it would be on Netflix. It wasn't a huge show back when it aired, but that's mostly because it was one of the super early shows on the WB. The year is 2020, and people deserve to get to know The Jamie Foxx Show!
Homeboys in Outer Space – UPN (1996-1997)
Okay, so I'm probably the only person on this planet who has even seen (let alone heard of) Homeboys in Outer Space, which starred Flex Alexander and Darryl M. Bell, but hear me out. Because it's just bonkers enough to be brilliant. It's about two astronauts (Flex and Darryl) who go on little adventures together in a starship that looks like a flying lowrider. The starship has a talking computer named Loquitia and it flirts with Darryl M. Bell's character. I'm serious. This show actually aired for 21 glorious episodes.
And what's cool is that Homeboys in Outer Space really committed to its sci-fi vibe. The set designs and costumes weren't the best, but they still worked. And you could kind of get lost in this utterly bizarre, but ultimately enjoyable universe. Netflix needs to make this show known. I don't think I've ever met a single other person on Earth who remembers this show as fondly as I do.
And those are just five former UPN and WB shows that would fit nicely on Netflix alongside all the other shows coming to the streaming service. But what black-led shows (And non-black-led shows, even. Because again, I seriously do want to see Nick Freno again (RIP, Mitch Mullany) would you like to see on Netflix? Sound off in the comments.
Rich is a Jersey boy, through and through. He graduated from Rutgers University (Go, R.U.!), and thinks the Garden State is the best state in the country. That said, he'll take Chicago Deep Dish pizza over a New York slice any day of the week. Don't hate. When he's not watching his two kids, he's usually working on a novel, watching vintage movies, or reading some obscure book.
Your Daily Blend of Entertainment News
Thank you for signing up to CinemaBlend. You will receive a verification email shortly.
There was a problem. Please refresh the page and try again.