How Stargirl Subverted Superhero Expectations With Season 1 Death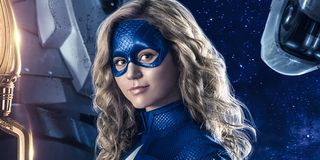 Spoilers ahead for the Stargirl Season 1 finale.
Stargirl changed things up in its first season by killing off not one, but two of Courtney's classmates. Henry's storyline and subsequent death were especially sad because he believed that his father could change. Instead, Brainwave proved how merciless a villain he was when he killed off his own son. It was pretty brutal and many wondered whether Henry's death was a fluke. It wasn't, and Stargirl creator and showrunner Geoff Johns explained how Henry's death actually subverted superhero expectations in Season 1.
Superhero properties tend to bring back dead characters quite often. It's even expected at this point (though the use of Lazarus Pits should be avoided). Stargirl leaned into the trope when the Season 1 finale revealed that Starman might actually be alive. For Jake Austin Walker's Henry, however, Geoff Johns decided to not bring him back from the dead despite viewers' investment in his character. However, audiences did think Henry had returned for a second there in the finale. Was that the intention? Here's what Johns told TVLine:
Henry's death was particularly tragic because he did go from "unlikeable bully" to somewhat of a hero, and it sucks that fans won't get to see him around in Season 2. That said, it's about time that a character death was permanent on a superhero show, so props to Stargirl for sticking with it.
At the very least, Brainwave got his just desserts in Stargirl's Season 1 finale. When facing off with Yolanda, Brainwave attempted to trick her into thinking Henry was still alive and twisted her memories of him. Suffice it to say that Yolanda wasn't fooled and she wound up killing the vicious supervillain. Geoff Johns revealed the frame of mind behind Brainwave's demise. In his words:
Brainwave was indeed "cold and cruel," but at least fans won't have to deal with him any longer despite how great a villain he was. Will Brainwave's death stick like Henry's did? Probably. The Season 1 finale saw glimpses of other Injustice Society of America members and I'm sure that villainy will live on into Stargirl Season 2. Sadly, that won't include Henry, but we can't have everything.
Stargirl Season 1 is currently available to watch on DC Universe and The CW's website. The superhero series has been renewed for Season 2, but no premiere date has been scheduled. Stay tuned to CinemaBlend for updates. In the meantime, be sure to check out our 2020 fall TV premiere schedule.
Your Daily Blend of Entertainment News
Your Daily Blend of Entertainment News
Thank you for signing up to CinemaBlend. You will receive a verification email shortly.
There was a problem. Please refresh the page and try again.