Here's What Disney+ Is Adding In September 2020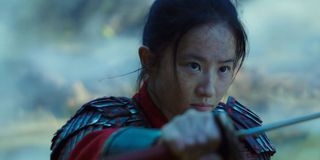 August was something of a slow month for Disney+. Although, when the schedule was first announced about one month ago, we had no idea it was set to be the calm before the storm. Disney+ in September is set to be a huge month for Disney+ as it will mark the service's first "Premium VOD" release, and at this point, nobody has any real idea how that's going to go. Even if you're not looking to pick up Mulan, however, there will still be plenty of great content, both new and classic, coming to Disney+.
After several months of delays where Disney was hoping to find a release date for Mulan in theaters where the movie would at least have half of a chance of making a reasonable box office happen, it seems that Disney has finally given in, at least when it comes to the United States. While some movie theaters in some parts of the country might be open by early September, that won't be the case in other portions of the nation, and so Disney made the call to release Mulan in theaters in countries where that was possible, but in places where theaters are still closed but Disney+ is available, Mulan will be available for a $29.99 (prices vary by country) price tag.
On the plus side, this price will give you permanent access to Mulan on Disney+ as long as your subscription is current. But this particular idea hasn't been tried before, so it's unclear just how successful it will all be. Of course, this is also the biggest title yet to go the VOD route, so there's every reason to expect demand to be quite high.
Beyond Mulan, the first part of September will also include some interesting new content, in the for form of 10 episodes of Earth to Ned a new original series from The Jim Henson Company that sees an alien hosting a late-night style talk show. We'll also get the two Mighty Ducks sequel films from Disney, as well as The Wolverine. and the Drew Barrymore comedy Never Been Kissed thanks to the Fox merger. We'll also see the end of the seasons for both Pixar in Real Life and Muppets Now.
Also, while the official Disney+ schedule doesn't list it, the Disney+ app says that the live-action version of Disney's Cinderella will hit the service September 1, which is actually one of two film versions of the story set to hit Disney+ that month.
Tuesday September 1
Cinderella (Disney Live-Action)
Friday, September 4
Ancient China from Above (s1)
D2: The Mighty Ducks
D3: The Mighty Ducks
Never Been Kissed
Strange Magic
Trick or Treat
The Wolverine
Mulan - Premium VOD
Earth to Ned - Series Premiere. Episodes 101-110
One Day At Disney - Episode 140 - "Alice Taylor: Studiolab"
Muppets Now - Season Finale - Episode 106 - "Socialized"
Pixar In Real Life - Season Finale - Episode 111 - "Coco: Abuelita Says No Music"
Weird But True - Episode 304 - "Germs"
Friday, September 11
Christopher Robin
One Day At Disney - Episode 141 - "Amanda Lauder: Chef Chocolatier"
Weird But True - Episode 305 - "Photography"
Certainly, there's nothing quite as big as Mulan coming in the second half of September but there are some notable highlights in the form of some popular library titles. When it comes to library titles, we'll see the second live-action Cinderella movie of the month, and let's be honest, the best one, Ever After: A Cinderella Story, starring Drew Barrymore. We'll also see the entire run of the ABC series Once Upon a Time which reimagines fairy tale characters in the modern world.
The initial list of brand new additions to Disney+ was missing a few interesting items that were revealed at the beginning of September. A pair of Fox productions will be joining DIsney+ at the end of the month, including the adaptation of the YA novel The Fault in Our Stars and the Oscar-nominated Hidden Figures. We'll also see the Disney+ debut of Morning Light, a 2008 documentary film about a crew of young people competing in the Transpac Yacht Race. The film has a specific Disney connection as it was a passion project Roy E. Disney, the nephew of Walt, who was a sailing enthusiast who competed in the Transpac race himself.
For new content we have a pair of brand new series, Becoming is the LeBron James produced documentary series chronicling real stories of successful people returning to the places where they got their start. Magic of Disney's Animal Kingdom will combine Disney theme park magic with the wildlife production of National Geographic for a new series spotlighting Disney's wild animal theme park, the animals that live there, and the people who care for them. We'll also the new Disney+ original movie Society of Second Born Royals.
Friday, September 18
Bend it Like Beckham
Morning Light
Coop & Cami Ask the World (s2)
Europe from Above (s1)
Ever After: A Cinderella Story
Kingdom of the Mummies (s1)
Marvel Super Hero Adventures (s4)
Notre Dame: Race Against the Inferno
Once Upon a Time (s1-7)
Soy Luna (s2-3)
Violetta (s3)
Wicked Tuna (s9)
Becoming - Original Series Premiere. Episodes 101-110 Available.
One Day At Disney - Episode 142 - "Dr. Natalie Mylniczenko: Veterinarian"
Weird But True - Episode 306 - "Trains"
Friday, September 25
The Fault in Our Stars
Hidden Figures
Fancy Nancy: Fancy it Yourself (s2)
The Giant Robber Crab
Gordon Ramsay: Uncharted (s2)
Muppet Babies (s2)
Oceans
Port Protection: Alaska (s3)
Sydney to the Max (s2)
Wild Central America (s1)
X-Ray Earth (s1)
Magic of Disney's Animal Kingdom - Original Series Premiere
Secret Society of Second-Born Royals - Original Movie Premiere
One Day At Disney - Episode 143 - "Ashley Girdich: R&D Imagineer Manager"
Weird But True - Episode 307 - "Venomous Animals"
Your Daily Blend of Entertainment News
Content Producer/Theme Park Beat
CinemaBlend's resident theme park junkie and amateur Disney historian. Armchair Imagineer. Epcot Stan. Future Club 33 Member.
Your Daily Blend of Entertainment News
Thank you for signing up to CinemaBlend. You will receive a verification email shortly.
There was a problem. Please refresh the page and try again.