Agents of S.H.I.E.L.D.: The 11 Best Character Additions, Ranked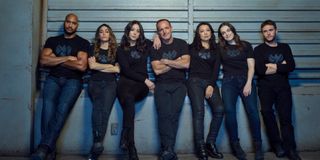 In the seven seasons that Agents of S.H.I.E.L.D. has been on the air, the characters have gone on a multitude of adventures and experienced their fair share of hardship. While the core team has largely remained the same since Season 1, there have been a number of fantastic characters that have joined Agent Coulson, Daisy Johnson, Melinda May, Leo Fitz and Jemma Simmons on their missions through space, time, and numerous battles with Hydra.
There has been a revolving door of new characters from Agents of S.H.I.E.L.D.'s early days, with the series successfully adding dynamic members to the team every season. They haven't all stuck around for one reason or another, but they made their mark on the show in different ways. Here are Agents of S.H.I.E.L.D.'s 11 best character additions, ranked.
11. Piper
One of the many reasons to like Piper (Briana Venskus) was her gumption. She fit seamlessly with the team, fighting alongside them throughout several missions. Piper also assisted Daisy and Simmons when they went to deep space in search of Fitz. Piper was one of many familiar faces that made up the series and her longevity, sense of humor, and camaraderie with the rest of the characters makes me glad that she's still alive out there.
10. Lincoln Campbell
Luke Mitchell's Lincoln Campbell joined Agents of S.H.I.E.L.D. in Season 2. An Inhuman who worked alongside Daisy's mother Jiaying in the Afterlife, Lincoln later joined S.H.I.E.L.D. as a member of Daisy's team, called "Secret Warriors," in Season 3. Lincoln was a genuinely nice guy. He added a bit of life to the team for the short period of time he was on it, helping S.H.I.E.L.D. to defeat Hive. Lincoln's sweet relationship with Daisy made his death all the more heartbreaking.
9. Antoine "Trip" Triplett
The reveal that Ward and John Garrett were traitors working with Hydra threw everyone for a loop, Trip (B.J. Britt) included. After leaving Garrett's team behind, Trip worked hard to prove that he was loyal to S.H.I.E.L.D. and he ultimately did. The character was a breath of fresh air, charming, loyal, and he had a great relationship with Daisy (whose name was Skye back then). He was truly growing into his own, so when Trip was killed off in Season 2, it was a punch to the gut.
8. Deke Shaw
Jeff Ward's Deke joined the series in Season 5, when the team time-traveled to the future. He wasn't all that ecstatic about being a part of any team at first, choosing to fly solo as a survivalist first and foremost. However, Deke became that one character who's a pain in everyone's side sometimes (Daisy, Fitz, and Mack's mostly), but whose loyalty and heart always shine through in the most surprising of moments. Him being Simmons and Fitz's grandson made him more central to the team by default, but he's since proven how capable he can be in sticky situations.
7. Daniel Sousa
Enver Gjokaj's Sousa is that rare character who has seamlessly transitioned from one Marvel TV show to another. After two seasons spent on Agent Carter, Sousa joined Agents of S.H.I.E.L.D. in Season 7, plucked from the '50s and thrown into confusing time-travel shenanigans. He's adjusted pretty well to everything, all things considered, and has been a grounding beacon of hope for the team. Sousa has been helpful, thoughtful, and loyal despite everything. Not to mention that he and Daisy have taken a romantic liking to each other and I'm definitely here for that.
6. Lance Hunter
First introduced in Season 2, Nick Blood's Hunter was more of a free agent when compared with the rest of S.H.I.E.L.D.'s members. In fact, he wasn't even a S.H.I.E.L.D. agent at all when he joined, but his independent spirit and lack of respect for the rules didn't stop him from joining anyway. While the rest of the team was suspicious of him at first, Hunter brought some much-needed humor to the generally very serious team and remained in contact with them long after he and ex-wife Bobbi Morse were forced to leave S.H.I.E.L.D. behind.
5. Robbie Reyes/Ghost Rider
Ghost Rider was never a formal agent of S.H.I.E.L.D., but the flame-headed vigilante helped the team defeat Aida and get rid of Darkhold, a mysterious supernatural book that Robbie's uncle and many others were after, in Season 4. Played to perfection by Gabriel Luna, the character quickly became a fan-favorite. Luna was all set to star in Hulu's Ghost Rider series too. Unfortunately, those plans were ultimately scrapped before production ever got started.
4. Enoch
Enoch is the kind of ride-or-die friend that anyone would want. Enoch, a member of the advanced synthetic alien race called Chronicoms, was previously an anthropologist. Enoch helped bring Fitz safely to the future and aided in the team's return to the present, patiently waited for decades after the time-traveling ship left him behind, and ultimately sacrificed his life so that the team could live. Joel Stoffer was exceptional in the role and brought a lot of humanity to a generally detached character, making Enoch's death all the more tragic in the end.
3. Bobbi Morse
The better half of the Hunter/Bobbi duo, in my humble opinion. Agents of S.H.I.E.L.D. has had a number of exceptional female characters and Bobbi ranks pretty high up there. Adrianne Palicki is no stranger to kicking ass, having once played Wonder Woman, and she brought that fighting spirit to her role as Bobbi. The character joined the show in Season 2 and later infiltrated Hydra on Coulson's orders. Let's just say Simmons was very impressed and intimidated by her for good reason. Bobbi was a force.
1/2. Alphonso "Mack" Mackenzie
Since these last two additions were equally great, they both deserve the #1 spot! Henry Simmons' Mack joined the show in Season 2 and is one of the earliest additions who stuck around for the remainder of Agents of S.H.I.E.L.D.'s run. Mack's impact as a character cannot be overstated. Through thick and thin, he has had everyone's backs despite the personal losses that he faced. Mack is a strong, steadfast, and tactical character with a good head on his shoulders. However, he's a big softie on the inside and cares very deeply about everyone and doing what's right. It's no wonder that he was later chosen to become the director in Coulson's place.
1/2. Elena "Yo-Yo" Rodriguez
Natalia Cordova-Buckley's Yo-Yo first came aboard the show in the middle of Season 3 and quickly made a strong impression. She became a powerful Inhuman superhero able to run quickly back and forth, hence the nickname. Over the course of the series, Yo-Yo has forged a great relationship with everyone and her no-nonsense personality is undercut by her enormous heart and moral compass. Loyal, sacrificing, and irreplaceable, Yo-Yo is far and away one of the best character additions to the series. Like Mack, Yo-Yo's become so integral to Agents of S.H.I.E.L.D. that to remove her from the team would alter the dynamic of the show.
Agents of S.H.I.E.L.D. Season 7 airs Wednesdays at 10:00 p.m. ET on ABC. For more on what to watch, be sure to check out our 2020 fall TV premiere schedule.
Your Daily Blend of Entertainment News
Thank you for signing up to CinemaBlend. You will receive a verification email shortly.
There was a problem. Please refresh the page and try again.