Why Agents Of S.H.I.E.L.D.'s Chloe Bennet Has 'Mixed Emotions' About The Series Finale Ending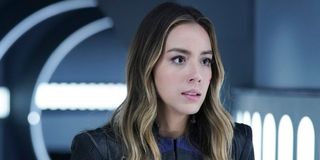 Warning! Spoilers ahead for Agents of S.H.I.E.L.D.'s series finale.
The Agents of S.H.I.E.L.D. series finale (!) was filled to the brim with time-traveling adventures, a redemption arc for Kora, some emotional goodbyes, and a big reveal about FitzSimmons. (It was also nice for Fitz to finally show up to explain what he's been up to after a season-long absence.) Before Enoch died, he revealed that the team's Season 7 mission would be their last together. At the end of it all, Daisy was perhaps the most reluctant to bid farewell, and Chloe Bennet also had some "mixed emotions" about how the series finale wrapped up.
Over the course of seven seasons, Daisy Johnson had come to embrace and rely on her tight-knit team of S.H.I.E.L.D. agents. In a conversation with Mack, she reasoned that the fight against the Chronicoms couldn't possibly be their final mission. They couldn't just say goodbye to each other, right? After all, the Agents of S.H.I.E.L.D. series finale emphasized that they were all fighting for their makeshift family, which made the goodbyes at the end that much more emotionally resonant. In a roundtable interview with CinemaBlend and other outlets, Chloe Bennet revealed that she wanted more time spent on the characters' farewells. Here's how she put it when asked about the importance of "family" in such a situation:
Hmm, does that mean that there were more scenes with the team that ended up on the cutting room floor, or is she just mixing cast goodbyes with character farewells? Whether or not either of those is the case, I don't disagree with her assessment. While the goodbyes were indeed emotional, there was certainly a whole lot of plot to get through, and Fitz also had a lot of exposition regarding what exactly he and Simmons were planning, and how they managed to pull it all off. As such, the finale wasn't able to provide more time for extended group scenes to ramp up the heartfelt emotions..
Despite Chloe Bennet's "mixed emotions" about how the goodbyes were captured onscreen, though, that final group scene was incredibly touching. It was also quite a bittersweet moment once viewers realized that Coulson, Daisy et al weren't actually in the same room together, as they were all hologram projections. Bennet conveyed how very real that scene felt for her and the rest of the cast, as both their characters and as actors. In her words:
Excuse me while I go grab my hologram tissues. Seriously, though, the cornerstone of Agents of S.H.I.E.L.D. was less about Marvel machinations and more about the characters' relationships with each other. They shared a deep bond that has obviously bled into the actors' lives off-screen as well. The fact that it's all over now feels all too real for the cast and for viewers. That said, the final group scene worked like a charm in bringing the emotion and it was indeed "really special."
Agents of S.H.I.E.L.D. is officially over now, but the Marvel series is still available to watch on Netflix for Seasons 1-6 and Hulu (opens in new tab) for select Season 7 episodes. For more on what to watch in the coming months, be sure to check out our 2020 fall TV premiere schedule.
Your Daily Blend of Entertainment News
Thank you for signing up to CinemaBlend. You will receive a verification email shortly.
There was a problem. Please refresh the page and try again.