14 Big Brother Houseguests Who Competed On The Challenge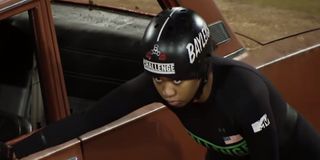 MTV's The Challenge is one of the roughest competitions reality tv has to offer, but that's not the only appeal to television audiences. The series has gotten in the habit of inviting several players of other popular reality shows to compete, particularly those who were on Big Brother. The show has had a surge of former players compete in recent seasons, and some of them have done some great things.
Some not so great, and it stands to question whether or not being a "comp beast" in Big Brother really means all that much in regards to The Challenge. Honestly, you'll see the results vary depending on the person, so let's travel down the list of Big Brother vets who did The Challenge, talk about how they fared on both shows, and what that could mean in terms of their futures on reality television.
Julia Nolan - The Challenge: War Of The Worlds
Julia Nolan is one-half of Big Brother's Nolan twins who switched places throughout the start of the season to win the right for both to play in Season 17. Julia appeared alongside her sister Liz Nolan in The Challenge: War Of The Worlds, but did not last too long in the game. She was out in Episode 4 after a battle in "Ring Tossed" which she lost after competing against Mattie Lynn Breaux and Natalie Negrotti. Not quite the run she had on Big Brother, though I can't help but wonder if she'd have faired better if she and her sister switched places again.
Liz Nolan - The Challenge: War Of The Worlds
Liz Nolan was the prize player of the twins in Big Brother Season 17, having placed second in the season but ultimately lost to Steve Moses. Most people wouldn't be that happy about a runner-up finish, but I can't help but wonder if Liz was grateful for that elimination after her run on The Challenge: War Of The Worlds. Liz was eliminated after the very first episode, so there were really no opportunities for a twin switcharoo. Not that I think Julia would've wanted that given how she did on this show, not to say her sister did much better.
Paulie Calafiore - The Challenge: War Of The Worlds 1 & 2, Final Reckoning
Paulie Calafiore is a Season 18 alumni of Big Brother, and the brother of Season 16 and Big Brother All-Stars contestant Cody Calafiore. Paulie has competed in The Challenge: War of the Worlds 1 and 2 as well as Final Reckoning. Paulie's run on Final Reckoning got him third place, and he finished as a runner up on War of the Worlds 2. Paulie sat out the latest season of The Challenge, but with his track record on the show, I'd sure love to see him come back and finally capture a win.
Josh Martinez - The Challenge: War Of The Worlds 1 & 2, Total Madness
Josh Martinez was the memorable winner of Big Brother 19, and while he was unable to compete on Big Brother All-Stars, it's hard to dispute he's not an all-star in terms of The Challenge. Josh has competed in War of The Worlds 1 and 2, and Total Madness. He hasn't managed to capture a win on the program yet but has managed to stay in the competition for a fair amount of time. Whether or not he'll ever taste the success of another reality show win remains to be seen, but one would think if he keeps competing his time will come.
Fessy Shaafat - The Challenge: Total Madness
Faysal Shawn "Fessy" Shaafat was a contestant on Big Brother Season 20, and one of the last players for the FOUTTE alliance to get picked off by Level 6 during his season. He made his premiere on The Challenge this year with Total Madness and had a pretty strong showing for a rookie. Though he didn't win Fessy made a run all the way to the finale where he finished in fourth. It stands to reason that if he returns to the franchise he could be a consistent threat to competitors, and may even win one if he can stay on top of his game.
Swaggy C - The Challenge: Total Madness
Chris "Swaggy C" Williams did not last long in Season 20 of Big Brother, though I would argue that he did win more than anyone that season in finding his future wife, Bayleigh Dayton. The two went on reality tv again on The Challenge: Total Madness and Swaggy had quite a run surviving right up until he was finally taken out by Cory Wharton in the Launch Button competition. It was a better show for him compared to how Big Brother went, but then again, I'd like to think Swaggy may have played the game a little differently had he not found love the first time around.
Da'Vonne Rogers - The Challenge: War Of The Worlds, Final Reckoning
Da'Vonne Rogers has really made a run on reality television, having competed on Big Brother 17 and 18 (evicted pre-jury in 17, joined the jury in 18) and Big Brother All-Stars. On The Challenge, she's competed in War Of The Worlds and Final Reckoning. Da'Vonne has the unique record of being one of the only contestants to be eliminated three times in a single season, as well as one of the contestants to return to the game two times from the Redemption House. Obviously Da'Vonne has a never quit attitude, which could serve her well if she's planning yet another stint on either one of these shows in the future.
Bayleigh Dayton - The Challenge: Total Madness
Unlike her husband Swaggy C, Bayleigh Dayton actually had a solid run in Big Brother Season 20. She made jury and may have made it a bit further but the implosion of her alliance FOUTTE ultimately led to her end. Bayleigh is currently on Big Brother All-Stars and looking to finish even better than how she did on The Challenge: Total Madness. The reality star put up a good show, and in the end, finished third on the season. Once again, better than what hubby Swaggy was able to accomplish! Perhaps this upward trend of performance means a win is on the way?
Victor Arroyo - The Challenge: Vendettas
Victor Arroyo made jury in Big Brother 18, and will soon marry the winner of that season, Nicole Franzel. Victor competed on The Challenge: Vendettas and had a solid start, but eventually found trouble in Episode 7 of the season when he went up against Brad Fiorenza. Victor was eliminated and hasn't been on The Challenge since. He has done The Amazing Race though, so maybe there's a chance he will return to the competition someday to give it another go. I don't see Nicole Franzel joining him, if only because the competition heavy show doesn't seem like the type of game she'd thrive in.
Morgan Willett - The Challenge: War Of The Worlds
Big Brother fans who don't know Morgan Willett may have skipped out on Big Brother: Over The Top, which aired exclusively on CBS All Access. Morgan won her season and carried that winning energy right into The Challenge: War Of The World hoping to make a splash. Despite the fact she had the legendary Johnny Bananas as a partner, Morgan had a relatively quick exit falling in Map It Out to Zach Nichols and Zahida Allen.
Kaycee Clark- The Challenge: Total Madness
Kaycee Clark won Big Brother Season 20, but it's a win that has been disputed by some in the fandom. Some believe Clark's win was more due to a bitter jury against Tyler Crispen than her skill in the game, so it's safe to say Clark may have entered The Challenge: Total Madness with a chip on her shoulder. Her first run on the show was pretty impressive, and she rounded out her debut season with a second-place finish. Obviously it's not another win, but proof enough for me that Kaycee's ability to win in competitions and stay friendly with others definitely shows she deserved to win Season 20 of Big Brother.
Jozea Flores- The Challenge: Champs Vs. Stars, Final Reckoning
Jozea Flores was a houseguest on Big Brother Season 18, but his tenure was short-lived. Jozea was booted from the game rather early, and even a win in the first round of the battle back wasn't enough to get him back in the game. Jozea has been in two versions of The Challenge and has had moderate success. He has no wins to his name but shares the record with Da'Vonne Rogers for the being the only players to come back to the redemption house, and the only players to be eliminated three different times in one season.
Lolo Jones - The Challenge: Champs Vs. Pros
It's safe to say Lolo Jones is more known for her Olympic stint than her runs on Celebrity Big Brother or The Challenge: Champs Vs. Pros, but she's a notable alumnus in either case. She didn't capture gold in either case, but a third-place finish in Big Brother is never anything to smirk at. She also fell just short of making the finale in Champs vs. Pros, so there's certainly a sense that she could be a viable competitor again if asked to return. Unfortunately, I'm not sure I see her doing either show again considering they were mainly celebrity-based offshoots.
Natalie Negrotti - The Challenge: Vendettas, Final Reckoning, War Of The Worlds
Natalie Negrotti is yet another alumnus of Big Brother Season 18 and was the sixth-place finisher in the season. She rolled that appearance into three appearances on The Challenge and took third place on Final Reckoning. War Of The Worlds and Vendettas were solid runs, and she's certainly a competitor that could be someone to watch out for if she were to get back in the game.
Do you love reality television? CinemaBlend covers a good deal of news about the hottest shows currently on television, so stick with us for more on that and for news happening in movies as well. Also, catch up on past seasons of MTV's The Challenge and Big Brother over at CBS All Access (opens in new tab).
Mick likes good television, but also reality television. He grew up on Star Wars, DC, Marvel, and pro wrestling and loves to discuss and dissect most of it. He's been writing online for over a decade and never dreamed he'd be in the position he is today.
Your Daily Blend of Entertainment News
Thank you for signing up to CinemaBlend. You will receive a verification email shortly.
There was a problem. Please refresh the page and try again.