Big Brother Spoilers: Who Will Be Evicted Week 3?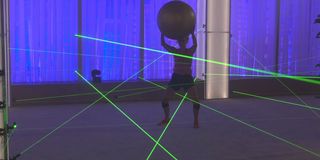 Warning! The following contains spoilers from the Big Brother All-Stars live feeds on CBS All Access as of Wednesday, August 26. Read at your own risk!
Big Brother All-Stars is headed towards another eviction, and this one may be the defining elimination of the season. Repeated warnings that this scenario may sink anyone outside the majority alliance's chances to win the game weren't enough to get Janelle Pierzina and Kaysar Ridha off the block, and now they're forced to make a case for which of them needs to stay in the game.
It's a nightmare scenario for many Big Brother All-Stars viewers, and possibly unavoidable. One of these two is getting evicted from the house; who will it be? Right now the current plan still seems to be Janelle Pierzina, but that doesn't mean her exit is entirely a done deal.
Can Janelle Convince The House To Keep Her?
The current feeling is that keeping Kaysar Ridha over Janelle Pierzina is best for a majority of the house. Tyler Crispen has stated that he has no opinion on who should be targeted, but Nicole Franzel, Cody Calafiore and others agree that Janelle is the greater overall threat between the two. Keeping Kaysar only benefits the "guys alliance" which doesn't officially exist but will probably start to form if yet another woman is evicted from the house this week.
One thing that works to Janelle Pierzina's advantage is that some of the house is waking up to the fact that the majority alliance is going to continue picking them off, and they need to find an alliance quickly. Janelle has an ally in Bayleigh Dayton, who has pull with Da'Vonne Rogers and David Alexander. David is still on the side of not wanting to keep Janelle, however, and Da'Vonne will likely side with the majority if there are no hard commitments to the cause come Thursday's vote.
David's vote isn't the only problem either. Janelle Pierzina has assumed she'll get votes from Memphis Garrett, who is firmly in the majority alliance. She also needs someone like Christmas Abbott or Dani Briones to vote to keep her, and they both have historically voted with their majority alliance as well. There's no reason for either of those players to break up the majority alliance just yet, and as I mentioned, they all would rather keep Kaysar Ridha.
This is mostly due to Nicole Franzel, who has made it clear that Janelle Pierzina is a major threat to her in the house. Flipping the vote and taking out Kaysar Ridha would likely cause unnecessary stress with her, and may fracture the majority alliance. That's not something that helps anyone in that group's game right now, so I wouldn't expect Janelle to get the votes she's claiming she will from majority alliance members.
Did David Alexander Unintentionally Save Janelle?
There is currently major drama in the house, and it's mostly because David Alexander is a rookie playing amongst all-stars. David first made waves when he told Janelle Pierzina he wouldn't take three weeks of safety from her in exchange for a vote for her to stay, which was a move that confused Bayleigh Dayton and Da'Vonne Rogers.
Things only got worse when David Alexander told Da'Vonne Rogers that he heard from Tyler Crispen that she was trying to flip the vote during last week's eviction in favor of Nicole Anthony. The move rattled Da'Vonne because she and Bayleigh are supposed to be in a side-alliance with Tyler, and it seemed as though Tyler was casually setting her and Bayleigh up to be the majority alliance's next big targets for the block. David then told Tyler about telling Da'Vonne all that, which freaked Tyler out to no end.
The short story is that David Alexander has likely lost any sort of protection from the majority alliance, and may be seen as a liability to all players afraid he'll just continue to blow up people's games by spreading game talk and being too honest with people. David is not a target on Kaysar's radar, but it's no secret David wants Janelle Pierzina out of the house. If that can be spun to Tyler and Cody Calafiore as a cause for keeping Janelle around, there's hope she could stay. That said, this is a longshot scenario, and I'm more convinced we'll just see David on the block next to Kaysar next week if the majority alliance wins again.
Is Eviction Enough To Eliminate Janelle Pierzina From Big Brother All-Stars?
There is a growing belief amongst the Big Brother All-Stars cast that a Battle Back event is coming for evicted houseguests. Of course, viewers have been skeptical that's the case, considering both Keesha Smith and Nicole Anthony have been posting online since they've been knocked out of the game. If a battle back was an option, wouldn't they still be in sequester?
That's the half-million-dollar question audiences are asking because Janelle Pierzina is almost entirely sure Big Brother All-Stars has something up its sleeve. She has alluded to production telling her something about a twist in the game, with the latest comment being that she was told she would not immediately be sent home if evicted in the early weeks.
For some added context, past conversations on this topic have said that "someone" talked to production about when they could get back to their families if eliminated and was told "mid-to-late September." One would imagine there's no need for quarantine especially with regular testing happening in the house, but the fact that Keesha Smith and Nicole Anthony appear to be back home is throwing many off. Was there a plan for a Battle Back and those two merely opted out?
Perhaps there's some other twist planned, but one that will ultimately give Janelle Pierzina a chance to re-enter the game. Big Brother All-Stars has pulled unexpected twists before midseason, and with many viewers and former players pulling for her to stay in the game as long as possible, it's hard to believe she wouldn't even be offered a chance. I'm still not convinced it'll happen, but I'll say I wouldn't be surprised if Julie Chen flips the script come Thursday's episode.
Big Brother All-Stars (opens in new tab) next airs on CBS Wednesday, August 26 at 8:00 p.m. ET. Continue to stick with CinemaBlend for more updates on the franchise, and for more happening in the world of television and movies.
Mick likes good television, but also reality television. He grew up on Star Wars, DC, Marvel, and pro wrestling and loves to discuss and dissect most of it. He's been writing online for over a decade and never dreamed he'd be in the position he is today.
Your Daily Blend of Entertainment News
Thank you for signing up to CinemaBlend. You will receive a verification email shortly.
There was a problem. Please refresh the page and try again.