SNL Is Returning To NBC With New Episodes, Sort Of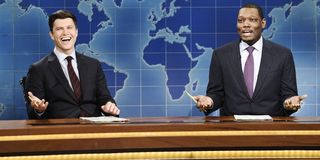 The COVID-19 pandemic has shut many TV productions down indefinitely, forcing late night series like The Tonight Show Starring Jimmy Fallon and even daytime series like The View to produce content from the safety of their homes during quarantine. Saturday Night Live was also among those that suspended production, but is finally returning to NBC with new episodes. Well, sort of.
SNL halted production for two weeks in March, with the variety series originally scheduled to return with new episodes on Saturday, March 28. At that point in time, John Krasinksi and Dua Lipa were scheduled to appear as host and musical guest, respectively. However, that date came and went with no SNL in sight — likely due to the extension of quarantine and social distancing measures. Per THR, SNL is set to make its comeback with a new episode on April 11, with the cast primed to perform new material remotely.
The episode will include the beloved "Weekend Update" segment, alongside other new and original content performed by the cast. The biggest change, besides the cast doing skits and whatnot from home, is that the SNL episode will air sans host. While this is all great news for fans of the show and a return to at least some semblance of normalcy, it's unclear if SNL's new episode is an indication that the show will return with new (remote-friendly) episodes on a regularly scheduled basis or if this is simply a one-off.
Over on Twitter, a picture of all the cast members video conferencing together was posted to the show's official account. Most everyone was pictured giving a thumbs-up sign and looking ready to get back to work, including Pete Davidson and Shrill's Aidy Bryant. I'll be interested to see how the SNL cast manages to perform their content and segments remotely, but I'm sure it's going to be fun nonetheless. Check out the post below!
With many people at home and practicing social distancing measures in hopes of flattening the curve of the coronavirus pandemic, the TV industry has had to get creative with its live shows. The first measure taken was to drop studio audiences during taping, so hosts like John Oliver and Jimmy Kimmel started recording their episodes to empty seats. However, that didn't last very long after production shutdowns sent everyone home. That ultimately led to situations where Stephen Colbert filmed an entire segment wearing a suit while sitting in his bathtub, among other interesting workarounds. Anything to keep the people at home entertained, right?
Saturday Night Live returns with a new episode on Saturday, April 11 at 11:30 p.m. ET. Stay tuned to CinemaBlend for updates and be sure to check out our list of TV delays and shortened seasons due to production shutdowns.
Your Daily Blend of Entertainment News