What People May Be Forgetting When Discussing Meghan Markle's Career And Money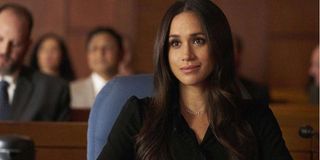 Meghan Markle had a pretty sizable net worth before she met Prince Harry, with sources estimating she was worth around $5 million due to a $450,000 per year salary from Suits and various business enterprises and sponsorship deals. Later, she and Prince Harry had many of their expenses paid Royal Family members, but now that they've left the Royal Family and the Queen allegedly put the kibosh on them using the Sussex Royal moniker for merchandising, a lot of people are wondering how they have are getting along and even making large purchases, including a house, recently. However, those people are likely forgetting that the couple is independently wealthy and there are still revenue streams coming in.
What Is Meghan Markle's Net Worth?
First and foremost, let's talk about Meghan Markle's income. Right now, we're in a pandemic and she seemingly hasn't worked much in a while. I get it. It may seem a little weird that Prince Harry and Meghan Markle bought an $11 million house, but it's really not that weird. She still has an acting income stream thanks to Suits being so popular on Netflix, as residuals have come into play with streaming shows in recent years. That's added to the aforementioned $5 million that was allegedly her net worth before she married Prince Harry.
Plus, Meghan Markle has also already dipped her toes back into the acting well. She narrated the Disney+ documentary Elephant and there could be more coming, though it's worth pointing out she's been making headlines more recently for more activism-oriented ventures. There's just a ton of speculation about where she will go next, and I've even seen headlines speculating Prince Harry will get into acting. All that aside, whatever project or avenue she ends up pursuing, she and Prince Harry are also still fairly well-to-do.
How Much Is Prince Harry's Net Worth?
It's not just Meghan Markle who already has money in the bank either. Prince Harry is allegedly still worth between $25 and $40 million thanks to a variety of sources, including an inheritance from his mom. He had money in the bank from his work as a Captain in the Army and if we're getting really complex here, he still should be getting allowance money from Prince Charles, though that could be coming from his personal wealth or his Duchy.
The formerly royal couple, who have retained the Duke and Duchess of Sussex title, did have more of their expenses covered prior thanks to a taxpayer grant called the Sovereign Grant. That accounted to about 5% of their income, per the BBC. When they quit their duties, they also had to pay back the cost of renovating Frogmore cottage, which had cost a cool £2.4, or around $3.2 million in U.S. dollars. Still, they have plenty of money at their disposal and could be well on their way to making more.
Much ado has been made about the fact Meghan Markle and Prince Harry will be financially independent moving forward. In short, as long as he's not shooting someone's ashes out of a cannon or otherwise spending frivolously, the former royal couple should be doing just fine for years to come. Now, how everyone living near them will be doing as they deal with newfound paparazzi, I can't really imagine.
Amazing Race & Top Chef superfan with a pinch of Disney fairy dust thrown in. If you've created a rom-com I've probably watched it.
Your Daily Blend of Entertainment News
Thank you for signing up to CinemaBlend. You will receive a verification email shortly.
There was a problem. Please refresh the page and try again.