Netflix's Sex Education Celebrates Finally Starting Season 3 Production With Fun Cast Video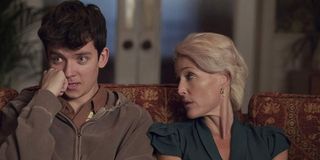 It feels like ages since we've gotten any new information about Sex Education. At long last, the Netflix series is finally starting production on Season 3. Of course, filming might look a lot different for shows (new safety protocols and whatnot), but that didn't deter the cast of Sex Education, who brought the a ton of energy in a fun video to announce their return to work.
Over the course of two seasons, Sex Education has included a few awkward sex scenes and candid discussions about a variety of sexual experiences. It's honestly no wonder that the series landed amongst Netflix's top ten most-watched shows from last year. Season 2 premiered in January and the show was renewed for Season 3 shortly after. Now, the cast is officially headed back to Moordale for more shenanigans (and perhaps some additional sex advice). Watch how each of the cast members prepared to start production on Season 3 in the cute video below!
Asa Butterfield pulling out his razor to shave after being in quarantine for so long is relatable. And, of course, Gillian Anderson preparing to play a pregnant Jean in Season 3 by stuffing her shirt with a pillow is hilarious. Now that's how you get ready for a role! There are a lot of board games and candy bars being packed in the suitcases, which will likely help the cast pass the time while filming.
I don't know about you, but I'm very excited for this show to resume filming. Sex Education ended on a slight cliffhanger in Season 2, with Isaac having deleted the message that Otis left for Maeve (which I hope doesn't stall their relationship anymore than it has). In addition, the last we saw of Jean, she had not yet told Jakob that she was pregnant, nor was it clear whether or not she'll even keep the baby. There's just so much up in the air right now for these characters and I'm pumped that production on Season 3 has begun because it gets us closer to getting answers.
Last month, Netflix wound up cancelling The Society, a series that had already been renewed for Season 2. The reason behind the cancellation was reportedly due to the impacts of COVID-19 and I was afraid the streamer would also pull the plug on Season 3 of Sex Education for the very same reason. Thankfully, that was not the case and the fact that production on Season 3 has already started up comes as a big relief.
Sex Education Season 3 does not yet have a premiere date scheduled, but my guess is that it will be released at some point next year. In the meantime, you can watch the first two seasons on Netflix and be sure to swing by our 2020 fall TV premiere guide for more options.
Your Daily Blend of Entertainment News
Thank you for signing up to CinemaBlend. You will receive a verification email shortly.
There was a problem. Please refresh the page and try again.