Netflix's The Society Creator Speaks Up About 'Abrupt' Cancellation Before Season 2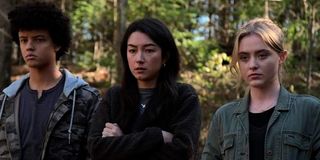 The Society was renewed for Season 2 last summer after the mystery drama's popular first season debuted, but it was recently announced that Netflix flat-out cancelled the show instead of moving forward as planned. Among other reasons, COVID-19 was reportedly to blame for the drama getting cut alongside fellow freshman series I Am Not Okay With This. Now, The Society creator Christopher Keyser is speaking out about the "abrupt" Season 2 cancellation.
With its cancellation, The Society joines Netflix's growing list of shows that have ended after only one season. One of the reasons the show was cancelled was reportedly due to increased budgetary concerns due to all the safety protocols and guidelines that TV shows (and movies) must now follow as filming stars to resume on a large-scale basis. But, that particular detail wasn't the most frustrating thing about the cancellation for Christopher Keyser. Here's what he told Variety:
The Society, which filmed in Massachusetts, was actually gearing up to resume filming on September 20 after being delayed since March, which would have been around 14 months after Netflix initially confirmed the Season 2 renewal. After spending all that time in anticipation, I can imagine how much of a gut punch it was to hear that the folks at Netflix decided not to move forward with more episodes. Christopher Keyser said he would have wanted The Society to go on for around five seasons, but the cancellation obviously brought that dream to an end. (At least on Netflix, though it's hard to say if another network or streaming service will step in.)
Christopher Keyser went on to say that he couldn't really pretend to be surprised about how complicated the production would be in a COVID-hindered world, and that "many months" were spent discussing how The Society could keeping going during the pandemic. The show's large cast no doubt played a large role in those conversations. Here's how Keyser explained it:
For those unfamiliar with the show, The Society followed a group of high school students whose camping trip got derailed by a big storm. Upon returning home, the teens quickly realize that the town's adults have disappeared, and they're now all alone. In true Lord of the Flies fashion, the teens attempt to establish rules and elect leadership to help figure a way out of their predicament in an orderly fashion. Surprise: it doesn't go well and – spoilers! – the big twist comes when it's revealed that the students are actually trapped in a parallel universe, and that the adults didn't go missing at all. Gasp!
With that big of a cliffhanger, fans were probably looking forward to a second season offering up explanations, but it seems unlikely now that we'll ever get to see what became of the high school students, and whether they ever make it back to their real town. Creator Christopher Keyser says that he eventually wants to reveal the characters' fates to fans, but that "it's a little too soon" right now.
The Society Season 1 is still available to stream on Netflix. For more on what to watch, be sure to check out our 2020 fall TV premiere guide.
Your Daily Blend of Entertainment News
Thank you for signing up to CinemaBlend. You will receive a verification email shortly.
There was a problem. Please refresh the page and try again.