What Holey Moley Needs To Change For Season 3 After Season 2 Finale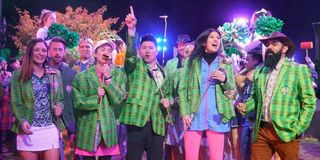 (Image credit: ABC)
Spoilers ahead for the Season 2 finale of Holey Moley on ABC.
The second season of ABC's Holey Moley came to an end with one competitive mini golfer sinking the putt to win $250,000, and the finale packed a whole lot of action into one hour. In fact, the Season 2 finale packed so much into the one-hour episode that I'm left with something that I think needs to change, if Holey Moley comes back for a Season 3. The finale needs to last for more than an hour.
Yes, it was exciting to see Tanner "White Buffalo" Beard conquer the long-awaited Tomb of Nefer-Tee-Tee after seeing the 12 finalists putt their best at the wildest, most dizzying, and most distracting courses of the entire second season. It was entertaining. But it felt like Holey Moley was skipping past some content that could have been incredibly interesting because of a time crunch. 12 finalists had to be narrowed down to one winner at a quick pace, and the finale just didn't feel as grand as it could have.
Season 2 of Holey Moley premiered all the way back in May, and I frankly had a sharper memory of Mr. Applesauce -- who didn't even win one episode! -- than most of the episode winners from earlier in the season. The finale didn't have time to properly reintroduce the earlier champs and their stories to raise the staks. The courses were wild and crazy and silly, including one with pies in the face and an upside-down putt, and I feel like Holey Moley could have gotten a lot more out of them if there was time to focus on them.
Admittedly, part of this may be due to the fact that I've spent this lighter-than-usual summer of television watching three-hour broadcasts of The Bachelor: The Greatest Seasons Ever and two-hour broadcasts of America's Got Talent, but Holey Moley spent months building to the grand finale with a $250,000 prize and the Tomb of Nefer-Tee-Tee.
Most episodes only featured eight golfers in one hour; the finale had to squeeze in 12 with enough time to spend an extra few minutes on Nefer-Tee-Tee. Holey Moley didn't have to go full Bachelor Nation and pack all three hours of primetime with mini golf action, but two hours would have been nice!
Besides, ABC already gave Holey Moley a two-hour block of primetime. The finale that announced Tanner Beard as the Season 2 champion ran from 8 p.m. ET to 9 p.m. ET, at which point a special called "Holey Moley II: The Sequel: The Special: Unhinged, Part One" started airing.
Couldn't the actual finale have run for two hours rather than one half of a two-part recap show? Summer 2020 hasn't exactly been packed with new primetime offerings, and I like to think that there was enough footage that the finale could have been stretched to two hours even if the original pre-pandemic plan had been for one.
Alas, I can only imagine how satisfying the Season 2 finale of Holey Moley might have been if it was able to run for an extra hour. There is also no guarantee that Holey Moley will return for more at all, as ABC has not yet renewed the competitive miniature golf show to return for summer 2021. Still, I'm guessing the odds aren't too shabby for a Holey Moley Season 3, and I'll be crossing my fingers that the format changes to allow for more time in a finale.
The good news is that plenty of new content is coming to the small screen in the coming weeks, even if some of primetime's biggest shows will be a little later than usual. See what you can watch and when you can watch it on our 2020 fall TV premiere schedule.
Resident of One Chicago, Bachelor Nation, and Cleveland. Has opinions about crossovers, Star Wars, and superheroes. Will not time travel.
Your Daily Blend of Entertainment News
Thank you for signing up to CinemaBlend. You will receive a verification email shortly.
There was a problem. Please refresh the page and try again.