Dang, Westworld's Luke Hemsworth Is Totally Shredded Now And Not Afraid To Share It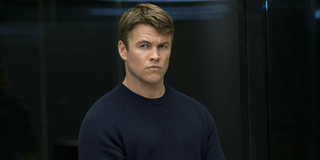 Everyone has been trying to find ways to fill their (likely) much increased free time during quarantine this year, and while some of us have simply watched a lot more TV, baked bread or even just napped a lot more, there are people who have decided to use the time to get into shape. As it turns out, Westworld's Luke Hemsworth is one of the latter, and not only is he now totally shredded, but he's not afraid to share his impressive physical results with the world.
Even though Luke Hemsworth's Westworld character, Ashley Stubbs, is (or rather, was) the head of security and has had his fair share of physical altercations, he was never portrayed as being any kind of body builder. In fact, while Stubbs wasn't flabby or anything, he always seemed like he was more of a big, thick dude, as opposed to someone who spent a lot of time building muscle in the Westworld gym. But, Hemsworth has now flipped the script for the next time we see Stubbs, and taken to Instagram to show off his all of his firmed-up progress. Take a look!
Wow. OK, Luke. We see you, friend! Luke Hemsworth is absolutely not one of our thirst trap celebrities, alright? He prefers to post pictures of his family, oddities he finds interesting and a lot of Australia's crazy / dangerous animal life, leaving any photos of himself for the times when he's making funny faces or wearing weird clothes. So it's very clear that he's really excited about adding some (probably pretty significant) muscle tone to his frame.
And, who can blame the man? Working out is hard, and working out enough to get yourself defined musculature of any kind is even harder. Luke Hemsworth has put in the work these past few months, hasn't he? Just look at him. Pecs, abs, biceps, traps...even the man's forearms are poppin' now. Good on you, Luke, for getting it all done during quarantine while some of us were eating Cheetos and binging every sci-fi show we could set our eyes on.
Having said all of that, though, I have to wonder if this change in Luke Hemsworth's physique means anything for Stubbs. He's been through a lot in three seasons, and with all of the twists and turns Westworld has brought in that time, literally anything could be on tap for Stubbs and Hemsworth next. Are we going to find out that there's another, more fit, Stubbs-like being in the world? Stubbs has now been tasked with protecting Bernard, so maybe this buff Hemsworth revelation is a sign that he'll be doing a lot more fighting whenever Season 4 comes around.
If you're wondering whether or not Hemsworth's caption offers some clues, that's anyone's guess, as they're actually lyrics from Paul Simon's 1986 hit "You Can Call Me Al." As easy as it would be to assign some big meaning to his use of the lyrics because of Hemsworth's connection to the mystery and confusion-filled universe of Westworld, it kinda sounds like he just wanted to buff up and see if he could not be "Mr. Beerbelly, Beerbelly" anymore. And, he made it happen, so, congrats!
Luke Hemsworth, his new muscles, and the rest of the Westworld humans and hosts will be back on HBO at some point for Season 4. In the meantime, check out our fall premiere guide to see what you can watch in the coming weeks.
Bachelor Nation, Gilmore Girl; will Vulcan nerve pinch pretty much anyone if prompted with cheese...Yes, even Jamie Fraser.