The Mandalorian: 4 Star Wars Comics To Read While You Wait For Season 2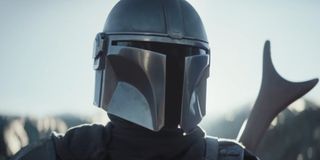 Star Wars fans didn't know how much they wanted, nay, needed The Mandalorian when it debuted back in November of last year until we actually got it. But now that we've been introduced to Din Djarin, "Baby Yoda," Cara Dune, the hunter droid, IG-11, and freaking Moff Gideon, it's safe to say that Star Wars fans are waiting with bated breath for Season 2 to arrive on October 30th on Disney+. But what if you just can't wait for October 30th and need more Mandalorians now? Well, that's what the Star Wars comics are for, young Padawan.
Because while you could always just watch Season 1 all over again to get yourself pumped up for Season 2, why not take an even deeper dive into the world of Star Wars with the amazing comic books as well? While none of these are directly connected to the show, you could definitely get more insight (and Boba Fett will be in Season 2) on the Mandalorians and everything else Star Wars if you follow Google Play's Top Star Wars Comics to Read. This is the way.
Star Wars Legends Epic Collection: The Menace Revealed
Ever wonder how Jango Fett actually became a Mandalorian? Well, you can find out in the 4-part series, Jango Fett: Open Seasons, which can be found at the start of this collection of comics, which also includes stories about the Jedi Council as well. In Jango Fett: Open Seasons 1-4, we learn about Jango's humble beginnings as a farm boy and how he, like Din Djarin, set off on a quest to be a Mandalorian after the death of his family. We also get to see him go toe-to-toe against Count Dooku, so that's pretty cool.
Fans of the Disney+ series will love this story since we get to learn more about what it takes to become a Mandalorian. We also get to see The Death Watch, which are sort of like anti-Mandalorians, given that they've severed themselves from Mandalore and work with Darth Maul. So you get a lot of the deeper intricacies of the Star Wars universe in this series, just in case you wanted to know more about what's going on in Mando's childhood flashbacks.
Get it at Google Play here.
Star Wars: Age Of Rebellions – Villains
Who doesn't love the villains of Star Wars? In Star Wars: Age of Rebellions – Villains, we get to learn more about Grand Moff Tarkin (played by Peter Cushing in the movie), and his pursuit to make sure that the Death Star gets used to its full potential. And in "Age of Rebellion – Boba Fett," which can also be found in this collection, we see the Mandalorian, Boba Fett, go on another hunt. Stories about Jaba the Hutt and Darth Vader can also be found within this collection.
The Mandalorian junkies who are intrigued by Moff Gideon, played by Better Call Saul's Giancarlo Esposito, will love to see even more of everybody's favorite villain, Moff Tarkin. And as mentioned earlier, Boba Fett will be making an appearance on The Mandalorian, so his story in this book will make you remember why a character with such little screen time in the movies has stayed consistently popular over the years.
Get it at Google Play here.
Star Wars: Age Of Republic
If you want even more Jango Fett, then you can find him in Star Wars: Age of Republic, which also contains stories about Qui-Gon Jinn, Obi-Wan Kenobi, Anakin Skywalker, Count Dooku, and even General Grievous (who is low-key my favorite character in the prequels). In Jango's story, we actually get to see father and son (Boba Fett) go on an adventure together, so if you're into Mandalorians (and you must be if you're reading this article), then you get a 2-for-1 special with this one-off.
While "The Child" is not the same as having another young Mandalorian by your side, if you like to see what pretty much amounts to a father and son story, which, let's face it, is kind of Din Djarin's relationship with Baby Yoda, then you'll enjoy this tale of Jango Fett going out on a mission with his son. Plus, it's great to read the other stories in here, since the force is always on the fringes of The Mandalorian, what with Baby Yoda deciding to raise his cute little hand and concentrate every now and then to save the day.
Get it at Google Play here.
Star Wars: Knights Of The Old Republic
Not to be confused with the video game of the same name, but tying in with that story, the Star Wars: Knights of the Old Republic comics are non-canon, meaning they're pretty much professional fan-fiction. But oh, what fan-fiction they are. Following after the Star Wars: Tales of the Jedi comic series and preceding the Knights of the Old Republic video game, we get probably the clearest picture of the Mandalorian Wars with these comics. You can find some of that story in the first two comics, "Commencement" and "Flashpoint," but there's more of the Mandalorian story told throughout the entire series.
While the other comics mentioned above are for the more casual Star Wars fans (like myself) The Knights of the Old Republic stories are like, deep, deep, deep lore. This is for the Star Wars fans who already knew a great deal about Mandalorians before the show even came out. So if you really want to be in the know about all the little references and side-details in The Mandalorian, then you'll definitely want to give this series a read.
Get it at Google Play here.
It's kind of crazy to think about how The Mandalorian has both simplified and yet expanded the Star Wars universe quite a bit. There's also another comic book collection called Star Wars: Bounty Hunters Vol. 1: Galaxy's Deadliest from Marvel that's set to come out on November 24th of this year, but it's not out yet, so I can't tell you how it is. And you can also get even more Mandalorians in The Clone Wars TV series, which can also be found on Disney+. But I just thought it would be fun to talk about some of the many comics that you can read right now to get you ready for the next season of The Mandalorian. And with me mentioning 4 comics, I like those odds.
Lover of Avatar (The Last Airbender, not the blue people), video games, and anything 90s, he will talk your ear off about Godzilla, so don't get him started.