How New Dancing With The Stars Host Tyra Banks Did As Tom Bergeron's Replacement In Season 29 Premiere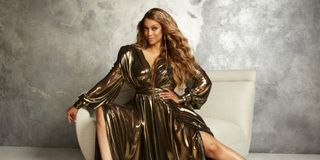 (Image credit: ABC)
Spoilers ahead for the Season 29 premiere of Dancing with the Stars on ABC.
Dancing with the Stars is back for another season on ABC, but the show isn't back to business as usual compared to previous seasons. On top of the changes to the format due to pandemic precautions, longtime host Tom Bergeron is out for the season for the first time in DWTS history. Veteran TV host Tyra Banks stepped up to tackle hosting duties, and the two-hour Season 29 premiere gave fans the first impression of how her TV talents translate to the dancing competition show.
News of Tom Bergeron's departure came with ABC's announcement that the plan is to "embark on a new creative direction," which also involved saying goodbye to co-host Erin Andrews after six years and eleven seasons. Tyra Banks was therefore not just stepping into Bergeron's shoes, but also Andrews', as ABC did not add a second host to share the commentating duties with Banks. So, let's take a look at how Banks did during her first night of Dancing with the Stars.
What Worked With Tyra Banks As Dancing With The Stars Host
Tyra Banks has no shortage of hosting experience, and she even served as master of ceremonies on another one of primetime's biggest competition shows. She brought a sense of ease and capability to the camera for the most part, and she knew how to keep the banter going with the judges and contestants. Sure, there was the occasional awkward moment like when post-"Eye of the Tiger" Carole Baskin went silent, but Banks was a strong presence on the stage when there was no audience and a new judge, and that's really what DWTS needed to launch the unconventional Season 29.
This was a two-hour live broadcast of the show trying to do things that it had never done before, and Tyra Banks was a host who could roll with the punches and keep the action moving. She's a skilled host thanks to other projects, and she applied what she knew to Dancing with the Stars. She wasn't Tom Bergeron or even Erin Andrews, with Andrews' shorter but certainly not insubstantial run on the show, but she did what needed to be done. Well done, Tyra!
What Didn't Work With Tyra Banks As Dancing With The Stars Host
Tyra Banks may be comfortable in front of the camera, but I didn't get the impression that she was entirely comfortable with Dancing with the Stars just yet. Some of her beats worked, like when she said she had to change out of her show-stopping red dress from the opening because she wouldn't be able to wear it for two hours. Others didn't work, in my opinion, like when she went back and forth with Carrie Ann Inaba over her lost earring and didn't realize that lifts aren't allowed in certain dances on DWTS.
To me, she felt like a guest host who knew how to handle herself with a microphone in front of a camera, but wasn't quite a Dancing with the Stars expert with the level of banter and familiarity that Tom Bergeron brought to the stage on a weekly basis. Tyra Banks faced a tough challenge by stepping in for both Bergeron and Andrews, and while she could roll with the punches, I didn't feel like she figured out how to go with the flow of the show just yet. She was clearly trying very hard; I just wish I couldn't tell that she was trying so hard, and she distracted from the dancing rather than showcasing it, in my book.
The Verdict On Tyra Banks On Dancing With The Stars So Far
Personally, I wasn't 100% thrilled with Tyra Banks' first go at hosting Dancing with the Stars, and I wondered more than once why Tom Bergeron had to go. Banks could nail the hosting duties on America's Got Talent, perhaps because there is always such a variety of acts with no need for much specific expertise. DWTS is very specifically about dance, and I'm hoping that she settles into hosting the dance show sooner rather than later.
All of that said, I'm not going to say that Tyra Banks was a bad choice to take on hosting Dancing with the Stars at all. If ABC was determined to replace Tom Bergeron and wasn't going to pull somebody from within the DWTS family, such as with veteran pro dancer Derek Hough stepping up to judge in Len Goodman's place, then Banks was a logical choice. Plus, circumstances are so different in this season of Dancing with the Stars due to the pandemic that Bergeron might have struggled as well.
Despite the canned cheering, clapping, and occasionally booing for some strange reason, it was hard to ignore that this live episode was being filmed without an audience. Group numbers were out of the question, and the judges were far more separate than usual. If it felt strange to me as a viewer, how jarring must it have been in person? Even though Tyra Banks isn't a Dancing with the Stars veteran, she knows her way around a stage, and I have to imagine that hosting a show full of glitz and glamor without an audience would have been difficult.
So, while I'm not altogether sold on Tyra Banks as Dancing with the Stars host when Tom Bergeron was completely at ease and entertaining, I'm also not going to rant and rave about her based on something she had never done before, live, for two hours, without an audience. Besides, the contestants haven't nailed the banter just yet either, so maybe she just needs to find her groove and she'll be exactly what DWTS fans are missing after losing Bergeron and Erin Andrews.
Be sure to vote in our poll below about Tyra Banks as host, and tune in to the next episode of Dancing with the Stars on Tuesday, September 22 at 8 p.m. ET for the first elimination of Season 9. The fan-favorite Disney Night is only a couple of weeks away, but not everybody from the first batch of performances will make it to the most magical dances on earth. For some additional viewing options now and in the coming weeks, check out our 2020 fall TV premiere schedule!
This poll is no longer available.
Resident of One Chicago, Bachelor Nation, and Cleveland. Has opinions about crossovers, Star Wars, and superheroes. Will not time travel.
Your Daily Blend of Entertainment News
Thank you for signing up to CinemaBlend. You will receive a verification email shortly.
There was a problem. Please refresh the page and try again.