John Cena's 6 Funniest TV Appearances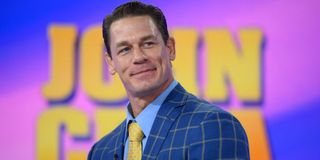 By now, we're all used to the fact that people who become famous in one area of entertainment can sometimes cross over to a different area and still make a very good name for themselves in something that seems to be outside of their normal comfort zone. For every singer / rapper / musician who's starred in a movie or TV show, you can bet that there's at least one professional athlete who's attempted the same. While not everyone who tries to expand their professional horizons easily lands on a new career which suits them to a T, the same cannot be said for WWE megastar John Cena, who's manged to not only turn his wrestling gig into a host of acting jobs, but has also proven that he can be quite funny while doing it.
By the time his small roles in comedies like Trainwreck, Daddy's Home, and Sisters (which were all in 2015) came around, Cena had already more than proven his mettle in the wrestling ring. And, while he'd had other film and TV parts at that point, those movies helped show just how talented the typically-serious 16-time wrestling world champion is at bringing the funny. Since then, he's made a number of memorable television appearances, from an SNL hosting stint, to commercials, and talk show moments to his time hosting the ESPY awards. Every time Cena commits himself to making us laugh, he never fails, so here now are his six funniest TV appearances!
John Cena Hosts The Espy Awards
Let's just go ahead and start with something which I think fully showcases Cena's abilities as a funny man, and in a supremely tough environment. Pretty much everyone who's hosted any kind of award show ever has openly admitted that it's a very difficult job. Professional comedians have been known to turn the gig down outright, or after doing it once or twice, because they don't want to deal with the hassle again. Well, on July 13, 2016, non-professional comedian John Cena took a stab at sports' highest honor to host the ESPY awards. And, what do you know? He nailed it!
Cena's opening monologue (which was a little over 10 minutes long), wasn't just done live in front of a massive crowd of the heavy-hitters in professional sports and Hollywood, but also broadcast live for all to see. He was tasked with getting the show started right, and making fun of some of biggest names in football, basketball and all of those other sportsball sports right to their faces, and the man didn't flinch or flub a single joke. In fact, I'm almost 100% convinced that his work hosting the ESPYs led directly to Cena showing up on my next pick, Saturday Night Live.
John Cena Hosts SNL
December 10, 2016 was a fateful day, friends. This was the day that we all learned our lesson, and found out that Mr. John Felix Anthony Cena Jr. would refuse to hold back, no matter how ridiculous the material was that he'd been given. While Cena did a lot of amazing work when he hosted Saturday Night Live, there is simply no sketch which proves this better than "Romance Bookstore," a photo from which you can see above. Honestly, if you aren't already laughing just by looking at that picture, well, I hate to tell you this...but, you're dead inside.
In the sketch, Cena plays an employee in a romance-only bookstore with Fabio-esq good looks, who enjoys tripping off to the stacks with his female boss to engage in some...titillatingly romantic word play. I've watched this several times now, and throughout some of the goofiest dialogue and action (including a fan blowing around his wig and co-star Aidy Bryant's bangs in the nuttiest ways), Cena never breaks. Kenan Thompson barely managed that, and he wasn't even in the main parts of the sketch and had also been on SNL for roughly 400 seasons by then. Meanwhile, Cena came in like a trooper and completely dominated. It's about to become a trend, folks.
John Cena As Hulk Hogan
Cena had a big year in 2016, as that was also when he appeared on the short-lived summer variety series Maya & Marty, hosted by Maya Rudolph and Martin Short. Again, Cena nailed all of his time on the show, but it will always be his spot-on impersonation of Hulk Hogan which will go down in the history books (if history books are ever written about variety show guest stars, anyway).
Cena has, obviously, worked with Hulk Hogan several times during his WWE career, but that wouldn't automatically translate to a perfect impersonation. What puts this sketch (where Cena plays himself as he auditions to get a role in a movie about Hogan) over the top, is, as usual, his complete dedication to nailing all of Hogan's hilarious vocal patterns and mannerisms. his happens to the point where I wouldn't be surprised if a wrestling fan who comes into the sketch after the impression has begun mistakes John Cena for the man himself.
John Cena In A Hefty Commercial
It would be highly unusual for someone as funny, well-liked and gregarious as Cena to have no commercials on his resume, so you can bet that he's actually been in several during his time as a famous person. His best known run as a spokesman, though, has to be for his Hefty trash bag commercials, and while they are all a special kind of funny, there is one in particular that I'm going to guess really brings joy to the hearts of pec-loving folks everywhere.
This ad sees Cena, once again, play on his beefcake status, much like he did in his "Romance Bookstore" sketch for SNL. You can rest assured that the tight t-shirt you see him in above this section isn't for nothing, is all I'll say to not ruin the surprise of the commercial. I can add, though, that Cena's sheepish nature in the ad, along with the reactions of the ladies around him, are what really helped take the humor over the top.
John Cena As Addison On The Tonight Show
You can't work as much as Cena does and not make several stops by talk shows to discuss your latest project. As we know, though, this can usually include participation in some nutty skits and recurring gags, and Cena shined during a March 2018 appearance on The Tonight Show, as he played Addison for one of Jimmy Fallon's "Ew!" skits.
John Cena is a big, manly-looking dude, which is one of the reasons why this skit knocks it out of the park. I feel like everyone who watches will be hard-pressed not to giggle just from watching Cena in action as Addison, especially when she has a moment where she forgets her strength, or when she and Sara (Fallon) do their dance team audition for the audience. It's all a wonder to behold.
John Cena In Mad Lib Theater
This is it, guys, and I'm wrapping it up with one of the funniest John Cena TV appearances on this list. And, yes, it is yet another recurring bit from The Tonight Show Starring Jimmy Fallon, but you can bet it's worth the double mention of that late night talk show.
If you haven't been introduced to the wonders of "Mad Lib Theater," this is where Fallon asks his guest for random words / phrases which then get plugged into a pre-written skit, the context of which the guest has no knowledge of. Then, they perform said skit with all of their chosen words added. As you'll see here, the result is always wacky. But, John Cena really made this session sing with his insane word choices, which turned the skit into something that even he, finally, couldn't quite get through with a totally straight face.
There you have it! These are the funniest of John Cena's TV appearances, but be sure to let us know in the comments below if you think we missed any gems of hilarity along the way!
Your Daily Blend of Entertainment News
Yennefer's apprentice, Gilmore Girl; will Vulcan nerve pinch pretty much anyone if prompted with cheese...Yes, even Jamie Fraser.