Shepard Smith Doesn't Want His New CNBC Show To Be Like Fox News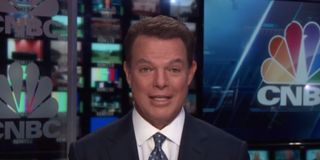 Shepard Smith shook up Fox News in a big way back in 2019 when he announced that he was leaving his longtime home on that cable news network, with no specific news destination for his next project. Now, after spending 23 years at Fox News, Smith has made the jump to CNBC to anchor a show fittingly called The News with Shepard Smith. After hosting shows like The Fox Report with Shepard Smith and Shepard Smith Reporting, he moved on to another style for his new show.
The former Fox News anchor spoke with Deadline about his move to CNBC, and Shepard Smith shared how The News with Shepard Smith will differ from Fox News:
Fox News is the home of a lot of programs and panels packed with opinion, and the network has plenty of detractors to go with its consistently impressive ratings in the cable news game. Shepard Smith stood out from his colleagues at Fox News in multiple instances in the build to his departure, notably including when Smith was critical of fellow Fox News personality Tucker Carlson.
Shepard Smith's decision to depart Fox News was seemingly abrupt, and announced at the end of a broadcast in October 2019, in which he revealed that he'd asked to be released from his Fox News contract. Smith reported that Fox News "obliged" but only after "requesting that I stay."
At the time, Shepard Smith didn't share why he made the decision to leave, but expressed gratitude for the opportunities Fox News afforded him, and admiration for the colleagues he was leaving behind on his shows. He left by expressing his "hope that the facts will win the day, that the truth will always matter, that journalism and journalists will thrive."
Viewers can judge for themselves just how different Shepard Smith's new show on CNBC will be from his time on Fox News. The News with Shepard Smith premieres on Wednesday, September 30 at 7 p.m. ET on CNBC, and it will be a nightly telecast that aims to go beyond the headlines and give viewers context to the news in real-time. The goal is for non-partisan coverage and perspective on the most important stories, including expert guests and reporting from around the world.
Shepard Smith serves as anchor and executive editor of The News with Shepard Smith, and will also work as Chief General News Anchor and Chief Breaking General News Anchor on CNBC. The September 30 series premiere takes place just one day after the first 2020 presidential debate between the incumbent President Donald Trump and former Vice President Joe Biden.
Despite the differences between Fox News and The News with Shepard Smith, CNBC should deliver Smith's take on the 2020 election as much as Fox News did on previous elections. Check out CNBC on September 30 at 7 p.m. ET for the first look at The News with Shepard Smith. For some additional viewing options now and in the coming weeks, check out our 2020 fall TV premiere schedule!
Resident of One Chicago, Bachelor Nation, and Cleveland. Has opinions about crossovers, Star Wars, and superheroes. Will not time travel.
Your Daily Blend of Entertainment News
Thank you for signing up to CinemaBlend. You will receive a verification email shortly.
There was a problem. Please refresh the page and try again.