Battlestar Galactica: 8 Major Questions We Have About The New Peacock Series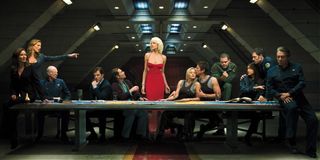 Fans of Battlestar Galactica were in for some frakking cool news in 2019 when NBCUniversal announced that the beloved science-fiction series that served as a reimagining of the 1978 show of the same name was getting brought back to television, or at least the Peacock streaming platform. But since this new version of one of the most popular television franchises of the 21st Century was announced, many of those same fans have been left with some major questions. You can include us in that group as well.
Like with any show of the scope and scale of Battlestar Galactica, there's a lot about the upcoming streaming series that we want to know, namely, when can we see it, how long will it last, and what's it about? All of these are valid questions that will surely get answered as the months pass and we get some more concrete information regarding the show, its story, how it ties to the 2004 series, and so much more. In the meantime, however, here are just eight of those questions.
When Will Peacock's Battlestar Galactica Premiere?
First and foremost, the question that's on everyone's mind right now is when will we see Battlestar Galactica on Peacock? Well, those who want to catch up on the 2004 series can do so right now, but we'll all have to wait an unknown length of time before we see any new episodes. And although we don't know for sure when the show will pop up on NBCUniversal's streaming platform, Bill McGoldrick, the man who's leading the push for original content on Peacock told Deadline in July 2020 that everything is coming together, stating:
Bill McGoldrick would go on to tell the publication that he, producer Sam Esmail, and everyone else involved with the project are well aware of the responsibility that comes with Battlestar Galactica and want to do the show a "great service." With that being said, we probably won't see the show's debut until late 2021 at the earliest.
Will Peacock's Battlestar Galactica Be A Remake?
Another question about Battlestar Galactica is one that centers on the nature of the show, namely, will it be a remake, reboot, continuation, or completely new story? In interviews with various outlets since the project was announced in 2019, Sam Esmail has been vague with his answers to that question, saying things like he cringed when the word "reboot" was first used when discussing the show with The Hollywood Reporter. When specifically talking about discussing the project with the 2004 series' showrunner Ronald D. Moore, Esmail had this to say:
With that answer, Sam Esmail is a little more than ambiguous about the nature of the show and whether it will be a remake. On one hand, it seems like he doesn't want to rehash anything from the original but on the other hand, he sounds like there's stuff from or connected to the 2004 run that seems interesting to him.
How Involved Will Ronald D. Moore Be In The New Battlestar Galactica?
Sam Esmail is discussing the show with Ronald D. Moore, so does that mean that the former Battlestar Galactica executive producer is jumping back into the world of science fiction? Not so fast. When sitting down with Variety in February 2020 to discuss Moore's latest ongoing series, Outlander, the question came up about his feelings on Sam Esmail bringing the series back, and judging by the following answer, it doesn't sound like he's in the nitty gritty of the science-fiction series:
That sounds like more than a blessing from one executive producer to the next, but it sounds like Ronald D. Moore is busy enough with Outlander, especially with news of the Starz fantasy series getting a spinoff of its own. So whether or not he has any involvement in the show beyond that is uncertain.
How Many Episodes Will Be In The Peacock Series?
Another question surrounding Battlestar Galactica is how many episodes will make up its seasons, and how many seasons will we get? The truth is, it's hard to say how many episodes will be required to tell the story that Sam Esmail and showrunner Michael Lesslie are currently crafting, but Esmail recently appeared on The Hollywood Reporter's TV's Top Five Podcast (opens in new tab) (via Screenrant) where he discussed the show's structure:
And although that explanation of the show's structure helps fans gain a better understanding of what they can expect when Battlestar Galactica comes to Peacock, it doesn't answer the question about its length. But if we were to guess, it would probably lean more towards the 13-episode count like the 2004 show's first season and the fact that Sam Esmail typically likes to stick with 10 to 13 episodes per in shows like Mr. Robot and Homecoming.
What Is The Show Actually About?
Back in September 2019, when the new Battlestar Galactica was first announced, Sam Esmail took to Twitter to stress that the new version of the show will not be a remake of Ronald D. Moore's 2004 series but instead will tell its own story:
Now what that means for the show is anyone's guess at this point. More likely than not it will focus on the seemingly never-ending conflict between humans and the Cylons, but how much of the story featured in the 2004 Battlestar Galactica remains a mystery at this time. However, The Mr. Robot creator's statement about the new show "staying true to the spirit" of the original should have everyone excited.
Will The Cast Include Any Returning Characters?
The 2004 version of Battlestar Galactica provided for some of the greatest television characters of the early 21st Century, no matter on which side they fell. The newer version of the show will hopefully include even more memorable characters that we'll be talking about for years to come. But it remains to be seen if anyone from the principal cast will be returning, especially considering we don't know much of anything about the plot at this point. If the show is set in the years leading up to the previous series, then we might see younger versions of some characters, but there's no telling what Sam Esmail and the rest of the creative team has in store for viewers.
Are We Going To See Humanoid Cylons?
Humanoid cylons were briefly introduced in the original series but became the focus of the 2004 version of Battlestar Galactica and became the leading form of the race of robots throughout the show's introductory miniseries and subsequent seasons. Depending on where the story is set in relation to the previous series, the new version of the show could very well include what was one of the most fascinating set of characters previously introduced. Another question that must be asked is what kind of role will these models play in the upcoming series?
What Will Battlestar Galactica Be Rated?
This last part is totally speculative as we don't know much about what's going to happen in Battlestar Galactica, but it's still a valid question: what will the show be rated? The 1978 series has retroactively been given a TV-PG rating while the 2004 version holds a TV-14 rating. Going off of Sam Esmail's track record with Mr. Robot (TV-MA) and the first season of Homecoming (TV-14) combined with the subject matter of Battlestar Galactica in the past (violence, sex, more violence, and even more sex), we'll probably get a TV-14 rating at the very least. Just make sure your kids are asleep before starting it up.
What do you think about these questions? Do they make you want to stand up and proclaim "so say we all," or is there something more you want to know about the upcoming Battlestar Galactica series on Peacock? Make sure to sound off in the comments below and don't forget to check our updated Fall 2020 TV Schedule here at CinemaBlend.
Philip grew up in Louisiana (not New Orleans) before moving to St. Louis after graduating from Louisiana State University-Shreveport. When he's not writing about movies or television, Philip can be found being chased by his three kids, telling his dogs to stop yelling at the mailman, or yelling about professional wrestling to his wife. If the stars properly align, he will talk about For Love Of The Game being the best baseball movie of all time.
Your Daily Blend of Entertainment News
Thank you for signing up to CinemaBlend. You will receive a verification email shortly.
There was a problem. Please refresh the page and try again.