The Flash Is Bringing Back Jay Garrick After Crisis On Infinite Earths, But How?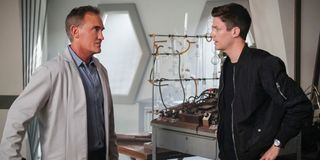 "Crisis on Infinite Earths" was the biggest Arrowverse crossover to date. It not only included the superhero shows on The CW, but a plethora of characters from across DCTV shows like Smallville and Lucifer made cameos. It was an event that shook the multiverse and birthed a new one. Jay Garrick, the Flash of Earth-3, was notably absent from the crossover despite being the one to inform Barry about the multiversal collapse in The Flash Season 6. However, Jay will reportedly be back in The Flash Season 7, but how he'll return is the real mystery.
In the second episode of The Flash Season 6, Barry headed to Earth-3 to learn more about "Crisis on Infinite Earths" from Jay Garrick. Following the episode, however, Jay was never seen again. I presumed that he and wife Joan were dead following Earth-3's destruction during the crossover. According to John Wesley Shipp, Jay will return somehow. Here's what the actor told Den of Geek:
It's unclear, but it sounds like Jay was actually supposed to come back at the end of The Flash Season 6. Considering that the series had to shut down production in March due to COVID-19, the season ended three episodes shy of its intended conclusion. Season 7 will pick up where last season left off, and I'd wager that Jay will return after the show wraps up the mirror Iris storyline.
All that said, the big question is how will Jay return? His absence during "Crisis on Infinite Earths" may have been due to John Wesley Shipp playing The Flash of Earth-90, but that was never confirmed. When the multiverse was reborn, Supergirl and Black Lightning's earths were folded into Earth Prime, joining The Flash, Arrow, Batwoman, and Legends of Tomorrow in one place. Did Earth-3 merge with Earth Prime, too? It's possible, and Shipp at least confirms Jay's new location. In his words:
Jay and Joan being on Earth Prime isn't really surprising in my opinion. They already knew about the multiverse's collapse and so they may have already had a contingency plan should shit hit the fan (and it did). Over on Batwoman, Alice's doppelganger landed on Earth Prime after "Crisis on Infinite Earths," but the different vibrational frequencies left her with massive headaches that would have killed her.
My guess is that Jay and Joan figured out a way to stop the headaches, which is possible considering they are scientists. Conversely, I think they may have simply lived their entire lives on Earth Prime after the multiverse was reborn. Either way, I'm sure all the details will be explained when Jay and Barry meet again at some point in Season 7.
The Flash Season 7 is currently facing some production delays due to a hold up with testing results. However, the series is still expected to return to The CW in January 2021. In the meantime, be sure to check out our 2020 fall TV premiere guide for more viewing options.
Your Daily Blend of Entertainment News
Your Daily Blend of Entertainment News
Thank you for signing up to CinemaBlend. You will receive a verification email shortly.
There was a problem. Please refresh the page and try again.