How The Flash's Joe West 'Rises Up' In Season 7, According To The Showrunner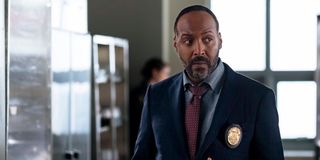 In past seasons, The Flash has largely shied away from doing topical episodes or storylines that reflected the real world. However, that's about to change in Season 7. The Flash showrunner Eric Wallace revealed how current events have shaped Joe West's Season 7 arc and explained the ways in which he "rises up" to meet the challenge.
Considering that Jesse L. Martin's Joe West is the captain of Central City's police department, it's a wonder that the superhero series has never addressed issues of police brutality and other injustices. That said, Eric Wallace doesn't confirm the particular angle, only that Joe will be dealing with issues that are more realistic than what The Flash has done before. Here's what Wallace told EW about Joe's upcoming storyline:
I'm certainly happy that Joe will be getting more of a storyline in The Flash Season 7. It's been some time since the beloved character has gotten something for himself. That said, the details of what he'll be getting up to are still rather vague. Eric Wallace does go on to add that Joe ends up in a "place that's unexpected for him," and that Joe will be very aware of today's problems with law enforcement.
However that plays out, Wallace is certainly excited about writing it. Ultimately, The Flash showrunner wants to keep the tone in line with that of the series (which is typically light, but has gone to very dark places) while also grappling with real-world dilemmas in a way that makes sense. Here's how Eric Wallace puts it:
The Flash Season 6 got cut short due to production shutdowns and its unintended season finale ended with Eva killing off her husband and Candice Patton's Iris disappearing from the mirror world. However, the Season 7 trailer confirmed that Iris hasn't left the mirror world just yet but is somehow confronted with different versions of herself. My guess is it's a mind trip, but we'll have to wait a few more months to find out.
The Flash is expected to begin production soon, and Season 7 is currently slated to premiere in January 2021 on The CW. While you wait, be sure to check out our 2020 fall TV premiere guide for more on what to watch in the meantime.
Your Daily Blend of Entertainment News