The Flash Season 7: 6 Questions We Have After The DC FanDome Trailer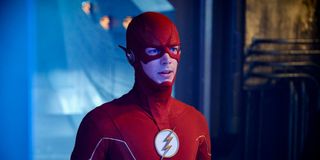 The Flash Season 7 won't premiere until January, but the cast and showrunner attended DC FanDome to discuss the unresolved storylines from Season 6 and debut the first Season 7 trailer. The Flash teaser trailer was chock-full of intensity, urgency, and stakes, providing fans with quite a few morsels of information to think about over the next few months.
The Flash had to shut down production on Season 6 in March, leaving off on a massive (and unintended) cliffhanger that saw Iris still stuck in the mirror world and Eva killing off her husband Joseph Carver. Of course, The Flash cast had already filmed most of Season 6's Episode 20 before the shut down, which is what the Season 7 trailer footage primarily consists of. What's more, the unfinished Season 6 episode will now serve as the Season 7 premiere. With all that in mind, here are six questions we have after watching The Flash's DC FanDome trailer.
What Exactly Did The Villain Top Do To Cecile?
The Flash Season 7 trailer revealed that the villain Top will return. The vertigo-inducing villain was last seen in Season 3 and it looks like she'll be pulling some sort of trick on Cecile Horton in the coming season. In the trailer, Top tells Cecile that she was an empath too, only she "never held back."
Top's eyes then turn green and so do Cecile's. I'd wager that Top either transferred her powers or was somehow able to enhance Cecile's abilities to maximum power. There's no telling what that will do to Cecile moving forward, but I'm now imagining that she'll be able to pick up on people's emotions more skillfully than before. Hell, maybe she'll even be able to use them to help find Iris in the mirror world, but maybe that's wishful thinking.
Will Team Flash Succeed In Building An Artificial Speed Force?
In the Season 4 premiere, Cisco was able to use a quark sphere that tricked the speed force into thinking that Barry was still inside. That same quark sphere (which had Barry's DNA) came back into play during Season 4's "Enter Flashtime," when Barry pulled it back out of the speed force. Now, we know that Barry's speed has been deteriorating since the death of the speed force in Season 6.
The Season 7 trailer sees Team Flash working overtime to create an artificial speed force and, at one point, Barry pushes Allegra out of the way to absorb some sort of orange light that encircles his head. Upon closer inspection, it looks like Allegra was working with the quark sphere (which is also shown at the start of the trailer). It's possible that Barry is activating it somehow to restart his powers. Maybe it's left over speed force energy from the time it was in there and that, in turn, will give him an artificial speed force boost until he can get his powers back permanently.
What Is Eva's Unfinished Business And Final Plan?
Eva McCulloch has been an interesting big bad. She was never shy about how much she hated her husband either, so it wasn't surprising when she confirmed that her goal was to kill him. However, now that Eva has successfully checked off that box, what's next for The Flash villain?
In the Season 7 trailer, Eva reveals that she has unfinished business and a whole world to liberate, but what does that even mean? As of right now, it's unclear what her plans really are, but I think she wants to use her science and tech to fully build out a mirror world that she can control. If she made a mirror double out of Iris then she can do it for anyone. It's either that or there are way more people that are trapped inside the mirror world that she wants to unleash, but only time will tell.
Will Barry Finally Save Iris From The Mirror World?
Iris was stuck inside the mirror world for most of the back half of Season 6, all while her double paraded around Central City secretly working with Eva. It wasn't until Season 6's Episode 17 that Barry finally realized that Mirror Iris was a fake and that Eva had kidnapped her. However, he's come no closer to saving the real Iris from the mirror.
It's a tough situation because, while Barry now knows she's trapped, he has no clue how to enter or exit the mirror world just yet. However, my guess is that Barry will figure out one of Eva's tricks and then use his powers to vibrate himself into the mirror world with a piece of her tech. Regardless of how he winds up saving her, I'd like to think that Barry will do so by the end of the Season 7 premiere. Iris' escape and the couple's reunion is long overdue at this point.
What Are The Consequences Of Iris' "Broken Mind"?
At the end of The Flash's unintended Season 6 finale, Iris transformed into a reflective state and disappeared right before Kamilla's eyes. The Season 7 trailer seems to indicate that Iris' mind will be playing tricks on her and the intrepid reporter will be visited by several versions of herself (past and future). At one point, a past iteration explains that she is a product of Iris' "broken mind."
Has the neural dissonance gotten so bad that it's forcing Iris to confront herself or is it attempting to drive her to the edge? Candice Patton told TVLine that Iris might have some "residual trauma" after being cooped up in the mirror world for so long. It's possible that Iris having to face the various versions of herself is what Patton was alluding to and it makes me wonder if some of these effects will be carried over once she's out of the mirror.
Will Iris And Eva Have A Final Showdown?
While Bloodwork was very much Barry's villain in the first half of Season 6, Eva was definitely Iris' big bad in the second half. Iris was tricked into thinking that Eva was a decent person. However, things took a turn when Eva revealed that she was behind Iris' mirror double and then proceeded to escape the mirror world without Iris.
In The Flash Season 7 trailer, Iris seemingly confronts Eva. She tells her to keep watching and keep trying to break her, but that she's not afraid of the woman that she is today, whereas Eva is. However, we never actually see Iris physically confronting Eva, so it's possible that this scene is being withheld for spoiler reasons. Iris is still trapped in the mirror world, after all. That said, I do think that Iris will get out in time to face Eva in the real world. It's certainly been building up to that for some time now and it would be a great way to wrap up the mirror world storyline once and for all.
The Flash Season 7 is scheduled to premiere in January 2021 on The CW. In the meantime, be sure to check out our 2020 fall TV premiere guide for more options.
Your Daily Blend of Entertainment News
Thank you for signing up to CinemaBlend. You will receive a verification email shortly.
There was a problem. Please refresh the page and try again.